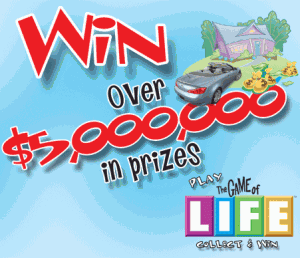 As if the great deals at Rite Aid aren't incentive enough to shop there, now they're offering this new Game of Life promotion, making shopping even more fun.
You'll earn game tickets every time you shop through February 27th, as well as bonus game tickets when you purchase any of these specially-marked products. Paste them on the gameboard found here, and you win when you complete a section. Plus there are over 900,000 instant win prizes!
Win anything from a Rite Aid Gift Card, to a 2010 Infiniti convertible, to a quarter-of-a-million dollars toward your home mortgage. Find a complete list of prizes here.
I'd sure love to hear about some Deal Seeking Mom readers winning big with this offer, so please come back and leave a comment sharing your successes if you do!
Thanks, The Frugal Find!