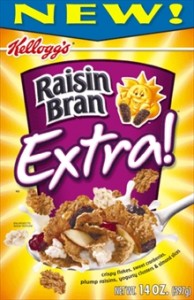 Several readers have written in recently about finding specially-marked boxes of Kellogg's Raisin Bran Extra!, so next time you're out shopping look for the boxes marked "Try FREE Mail in Rebate."
Make sure you have the $1/1 Raisin Bran Extra! printable handy, and you can pick up a box for better than FREE after coupon and MIR!


To receive a rebate check, complete and mail this form with the following:
1) Original cash register receipt with price circled (photocopies not accepted)
2) 1 UPC symbol from Kellogg's Raisin Bran Extra! Cereal
3) Request must be postmarked by 3/31/10 and received by 4/04/10
4) Mail to:
Kellogg's Raisin Bran Extra! Rebate Offer
PO Box 185044
Battle Creek, MI 49018-5044
Limit is one per name/address/household.
Have you seen these rebates at your local stores? If so, which ones?