Mandi of OrganizingYourWay.net guest blogs today.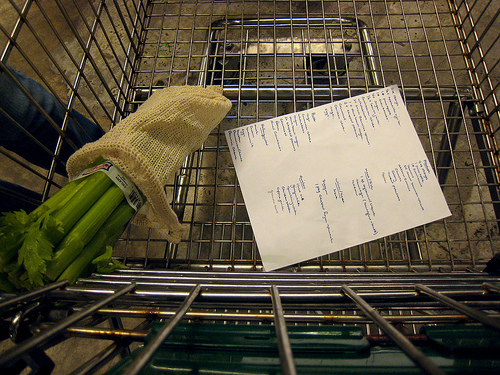 Photo by Bruce Turner
Whether you're grocery shopping on a strict budget or simply trying to stretch your budget as far as it will go, chances are you know exactly which deals you need to take advantage of and what is and isn't in your budget each week when you head to the store. A key part of making deal shopping work for you – without stress and frustration – is to have an organized shopping list so that you can still shop quickly without having to backtrack along the way to pick up items you've forgotten.
The easiest way to do this is to simply write your list in the order of the store aisles so that you can go down your list item by item. I've been writing my shopping lists this way for several years and have gotten so used to thinking this way that I'm now able to write my list by aisle without a second thought (which makes going to a different grocery store "fun"!), but I didn't start out doing that way.
When I first started writing aisle-by-aisle grocery lists, a friend and I drove to our local store and wrote down the aisle headers in order. I then created a master shopping list that we could both each use to write our lists , and it worked perfectly! (And it's especially helpful to write a list this way when sending your husband to the store for you because he knows if he's missed something before he gets to the end of the list.)
I've linked to two shopping list templates for you to use, and here are 3 tips for getting the most out of them:
1. Go to each of your regular grocery stores (and it's not a bad idea to include CVS, Walgreens and/or Rite Aid if you regularly shop at them as well) to create an aisle-by-aisle "map". HINT: Before you start writing down aisle descriptions, stop by the customer service desk and ask if they have a layout you could have. Many stores do! If they don't and you need to write your own, be as brief as possible. For example, instead of "Cake, Spices, Muffin Mixes, Pancakes" (all of which might be on the sign hanging over the aisle), simply write "Baking." Generalize as much as possible to save time and save space on your list – "Dairy," "Meat," "Frozen," "Soups/Mixes."
2. Create a key for yourself so that you can mark the items you absolutely need to get that week (because the sale is too good to miss or your coupons expire) as well as size restrictions and brand names.
3. Print out several copies of each blank list so they're ready to use when you start compiling your shopping lists, coupons and deal scenarios. Use the smaller half sheets if you want to write each store's list separately, or use some of the cells on the larger sheet for your smaller stops instead of creating a separate sheet for each store. HINT: If you're looking for a "greener" solution, try inserting your lists into protective sheet covers and using a fine tip dry erase marker to write your list each week. You can simply wipe it clean after each use (but be careful it doesn't get wiped away while you still need it! )
Downloads:
Do you have a system in place to organize your shopping lists? If you've shopped with and without an organized shopping list, what are the biggest differences you've noticed?
Mandi Ehman is a wife and momma to three little girls (4, 2.5 and 1 years old). OrganizingYourWay.net was born from her belief that getting organized only lasts if you do it your way – to fit your needs, your preferences and your lifestyle.