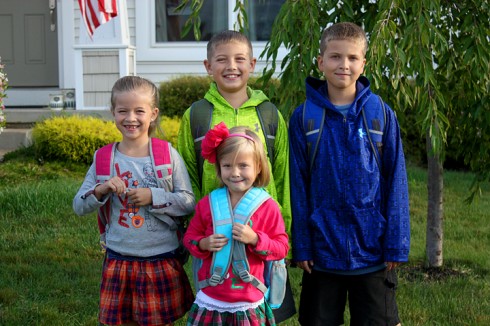 Backpacks have been filled with supplies, wardrobes have been rounded out (can you believe I scored those Under Armour jackets for my boys for just $13 each?!?), and four of my five kids are officially in school. My three-year-old will be starting preschool tomorrow, and this mama is looking forward to a few hours of uninterrupted work time three days a week!
However, that doesn't mean I'm shooing them all out the door in the mornings without a healthy breakfast to start their day. We've been on the hunt for quick and easy breakfast solutions, like this Microwave Egg, Sausage, & Cheddar Breakfast Tortilla recipe found on the Incredible Egg website. This high-quality protein-filled breakfast is affordable and gives them the nutrients to start their day off on the right foot.
Speaking of starting the day off on the right foot… My kids can be a bit slow moving in the mornings, so a hearty breakfast that they can hold in their hand is perfect because they can finish it off on their way to the bus stop if need be! Plus this recipe can easily be made ahead and frozen so you just need to pop them in the microwave for a few minutes to thaw.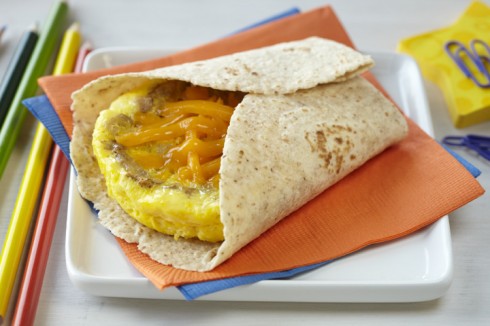 Microwave Egg, Sausage, & Cheddar Breakfast Tortilla
Ingredients:
1 Incredible Edible Egg
1 fully-cooked breakfast sausage link, chopped (3/4 oz)
1 tablespoon shredded Cheddar cheese
1 wheat flour tortilla (6-inch)
Instructions:
Coat 2-cup microwave-safe cereal bowl with cooking spray. Add egg; beat until blended. Sprinkle sausage over egg.
Microwave on high for 45 seconds; stir. Microwave until egg is almost set, about 15 seconds longer.
Top egg with cheese. Place onto tortilla. Fold bottom of tortilla over egg, then fold in sides.
Like the Easy 5-Minute Breakfast Egg Muffins recipe I shared previously, this recipe is endlessly customizable by changing up the meat or adding various condiments!
Do you have an incredible kid? Or has a family member accomplished something special? Head over to The Incredible Fridge on the Incredible Edible Egg Facebook page to share the news. You could win incredible prizes like an iPad 2, digital cameras, and a year's supply of eggs! Enter through 10/28/11. Also, be sure to check out some of the great back-to-school egg recipes, cooking tips and more on their Facebook page!
This post was brought to you by the American Egg Board. As always, my participation has been voluntary and the opinions contained within are completely my own!