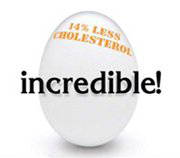 The American Egg Board is offering another HOT coupon on eggs today! Just become a fan of the Incredible Edible Egg on Facebook today, and you can print a coupon good for $0.55 off 2 dozen eggs. This coupon is only available for a limited time, so make sure to print yours now!
Update: Coupon is no longer available — but the recipe is still delicious!
As I'm sure you're well aware, eggs are an affordable way to incorporate some protein into your diet even without a coupon. But did you also know that studies have shown that a complete breakfast, including eggs, can increase classroom performance? Scientific studies demonstrate the cognitive benefits of eating breakfast, such as improved memory recall time, improved grades and higher test scores. They also provide long-lasting energy and the "building blocks" kids' bodies need to grow and perform properly.
But my favorite reason for incorporating eggs into a healthy breakfast is that they're so darn quick and easy to prepare. My microwave is probably one of the most under-utilized appliances in my kitchen, but it will be getting tons of use this school year with this easy 5-minute recipe for Breakfast Egg Muffins!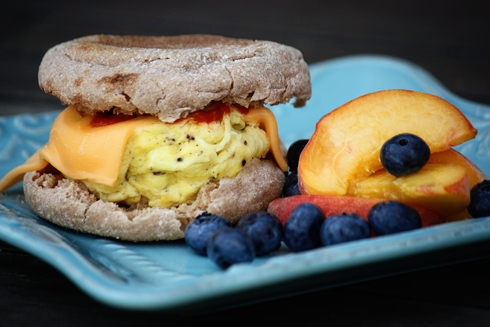 Easy 5-Minute Breakfast Egg Muffins
Ingredients:
1 Incredible Edible Egg
1 teaspoon butter
2 teaspoons milk
1 English muffin
1 slice of American cheese
salt
pepper
Instructions:
Microwave about 1 teaspoon of butter in a microwave safe bowl for about 15 seconds. Swirl it around your bowl so that the egg doesn't stick. I used a small ramekin so that the egg would be roughly the same size as my English muffin.
Scramble one egg, a splash of milk (about 2 teaspoons), and salt and pepper to taste in a separate bowl.
Pour the egg mixture into the buttered bowl and microwave for about 45 seconds. I found that I needed to flip it over and pop it back in for about another 15 seconds to finish the bottom. Also, microwave wattages vary, so you may need to use a little less or a little more time depending on how wet or dry you like your eggs.
While the eggs are cooking, pop your English muffin in the toaster.
Assemble your egg on the toasted English muffin. Place your slice of American cheese on top of the egg, and the heat of the cooked egg and toasted muffin will melt it perfectly. Top as desired.
The great thing about this simple recipe is that there are endless ways to customize it. I squirted a little sriracha sauce on it, but you could use mayo, salsa, etc. Save extra bacon or diced veggies to mix into the eggs and change it up a little every day!
This post was brought to you by the American Egg Board. As always, my participation has been voluntary and the opinions contained within are completely my own!