This following guest post is an excerpt from Your Money: The Missing Manual by J.D. Roth from Get Rich Slowly: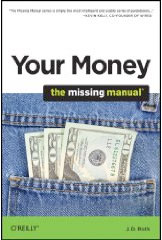 Over the past few years, I've tried a variety of cost-cutting measures in order to save money. At first, these forays into frugality were a way to help me dig out of debt. After I actually managed to get out of debt, I opted to stay frugal because I saw that doing so would allow me to build wealth — something I never thought I'd be able to do.
Some frugality measures — clipping coupons, buying store brands, using the public library — are clear winners. My wife and I know we save money by doing these things.
But sometimes, it's not clear if our choices make sense over the long term.
For example, we pool money with friends every year to buy a side of beef. This gets us great quality meat, but there's no real cost savings. (It's sort of a break-even proposition.)
We've been growing a vegetable garden for nearly 20 years, but my wife and I had always wondered: Do we save money by growing our own food? And if so, how much?
How much does a garden really save?
Many prominent penny pinchers are proud to proclaim that gardening is a great way to save money. Michelle Obama is growing vegetables at the White House. The Burpee seed company boasts that $50 in seeds and fertilizer will yield $1250 in produce. Burpee CEO George Ball told the Wall Street Journal that $1 in seeds will produce $75 worth of beans.
But how much does a garden really save?
My wife and I set out to answer that question during 2008. For twelve months, we tracked the cost of seeds, fertilizer, water, and electricity. We carefully weighed every fruit and vegetable we harvested from our garden, comparing costs with local supermarkets and produce stands. We also logged the time we spent in the garden. At the end of the year, we tallied the results.
We'd spent 60 hours working on our crops and $318.43 on seeds and supplies. We harvested $606.97 worth of food, including:
$225.74 in berries
$294.59 in vegetables
$66.63 in fruit
$20.10 in herbs
Drawing on what we'd learned, we repeated the experiment in 2009. This time, we spent $351.37 (and 63.5 hours) while harvesting $809.74 worth of food. Can $50 worth of seeds and fertilizer really give you $1250 in food? Well, not in our yard. Still, we were able to double our investment in just a year. T's a better return than I get with my mutual funds — and it's tastier, too.
Greens from the garden
Growing your own food is a fun and rewarding way to save money. Food fresh from your yard is convenient and generally tastes better than anything you can find in the supermarket. If you're able to put in the time and effort, you'll be rewarded with a bounty of fruit, berries, and vegetables. Here are some quick tips for starting your own garden plot:
Plan in advance. Decide what you'd like to grow. How much space can you devote to the project? How much time are you willing to spend? For those with small spaces (or small ambitions), a container garden is an excellent choice. Others might consider building raised beds to use for square-foot gardening. Square-foot gardening allows you to maximize food production in a minimum of space.
Start small. When planning your garden, it's better to start too small than to start too large. In order to enjoy your garden, you have to be able to control it. Don't be too ambitious. If you want to test the waters, try herbs. Herbs are easy to grow and they're cost-effective.
Choose productive plants. It's frustrating to plant a bunch of seeds that don't produce. If you want a rewarding, productive garden, do some research to find out what grows well in your area. One excellent resource is your state's extension office, but also ask your friends and neighbors.
Share with others. When you buy a packet of seeds, you'll generally receive more than you need. It can be fun and frugal to split the costs with others. It's also useful to share equipment. You may own a roto-tiller while your neighbor has a trailer for hauling manure. Sharing saves money.
Buy quality tools. When you buy tools, it pays to purchase quality. Thrift and frugality are about obtaining value for your dollar – not just paying the lowest price. Garden tools take years of abuse. You want equipment that will last and that will also be a pleasure to use.
Have fun. Don't make gardening more work than it needs to be. Your garden doesn't need to be perfect. Pick a favorite fruit or vegetable, plant a few seeds, and have fun watching them grow to maturity. Make it a family thing. If you're a beginning gardener, start small. It's easy to dive in headfirst and be overwhelmed. Research the plants you want to grow and the conditions they require, build a manageable raised bed if you're starting from scratch, and use local resources to gain knowledge and cut costs. Build on your successes.
Your public library will have many great gardening books, some tailored to your location. Two excellent books for new gardeners are Square-Foot Gardening by Mel Bartholomew and The Bountiful Container by McGee and Stuckey. You might also want to check out You Grow Girl, a blog about gardening. With a little bit of effort, your yard can be producing food that tastes great and saves you money!
Have you started working on your garden yet?
J.D. Roth writes about sensible personal finance at Get Rich Slowly. J.D.'s first book, Your Money: The Missing Manual, is now in stores and contains tons of tips for saving (and making) money. To learn more about gardening, check out the Get Rich Slowly articles about starting seeds indoors and how to start your own vegetable garden.