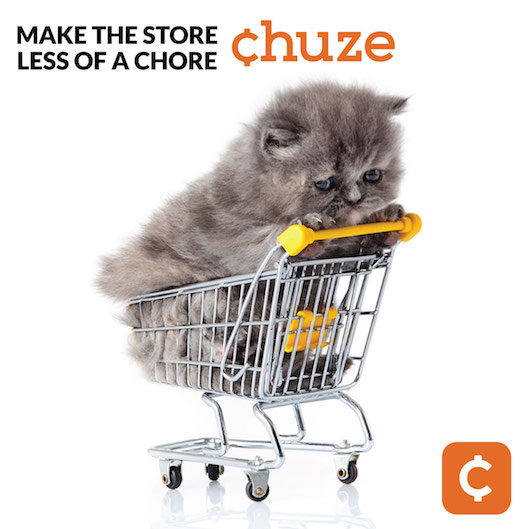 I've got a dirty little secret, and I think it's about time I come clean… I hate grocery shopping.
There, I said it! There are at least a hundred things I'd rather do instead, including unclogging the kids' toilet for the 8th time this week and scouring the lime buildup in our master bathroom shower.
I've tried sending my husband to the store for me (because he'd actually rather shop than clean), but then I end up getting at least 7 phone calls asking where this item is or what size/brand/color/flavor I want of that item. Can you relate?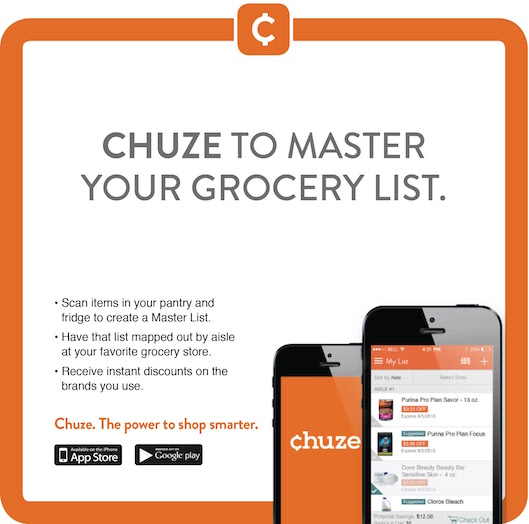 If so, I'm sure you'll be as excited as I was to learn about Chuze, a new smartphone app available for IOS and Android. It's revolutionized the way I create a grocery list and streamlined how I shop from it.
"Chuze puts time back into your day, money back into your wallet, and a sense of discovery back into the grocery shopping experience."
How Chuze Saves Time & Money At The Grocery Store
Though Chuze is still in beta and working out a few kinks, it's fast becoming one of my favorite money-saving apps. Take a look at these features that are currently available, and I think you'll agree:
Adding items to my shopping list is so easy my 7-year-old can do it! Simply scan the barcode on any item with your smartphone, and Chuze adds that exact brand, flavor, size, etc. to your shopping list.
Save money with coordinating coupons. While there are only a few coupons available currently, this has the potential to be HUGE for lazy couponers (including myself at this life stage). Chuze will automatically match your list with available coupons and/or suggest alternate brands that have a coupon instead.
Chuze lets you share your list with family members. See what I'm getting at here? Exactly what I want gets purchased — no matter who is doing the shopping. I added my husband and all 5 kids to my master list, and anyone can add items or shop from it.
AND when it's time to shop, chuze organizes your list by aisle. I can't even tell you how convenient this feature is. Even without the coupons, this app is totally worth it just to be able to find everything quickly and easily!
If you're a visual sort of person, this video gives a great overview of the Chuze app:
Now if only they could make my grocery store that empty when I shop! Right?
Click here to get started with Chuze today, and I'll be sharing new updates and tips as they're available…
Disclosure: Sponsored by Chuze, all opinions are my own. Thank you for supporting the brands that support this site!