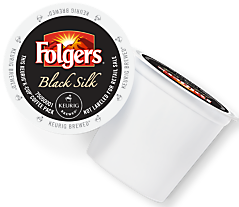 Today at Cross Country Cafe you can pick up a box of Folgers Coffee Keurig K-Cups for $11.99! You'll find a great variety of Folgers Coffee Keurig K-Cups available – including Black Silk, Vanilla Biscotti, Caramel Drizzle, Lively Colombian and Classic Roast too!
Folgers Black Silk Keurig K-cup coffee is a dark roast coffee drinkers dream. Folgers classic 100% Arabica beans are roasted to perfection bring out all of the subtle nuances of this coffee. Black Silk has a smoky flavor, strong body and the smooth finish you have come to know and love from all Folgers coffees.
Folgers Coffee Keurig K-Cups (assorted varieties), $11.99
Enjoy FREE Shipping on your order over $59!