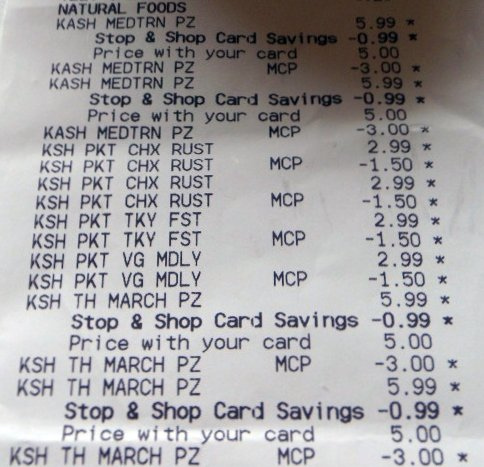 Photo by grand grrl
As a follow-up to Tara's The Power of Coupons article, I'd like to share a few tips that helped me reduce my weekly grocery bill for our family of five from $167.50/week to $89/week in two-months, without giving up my sanity, red meat, pricey dairy products, or daily produce.
Have you ever thought the following?
I don't have time or patience to clip and organized coupons,
I can never save enough money to make it worth my while,
I'm too brand-loyal to even find value from coupons,
My family eats too much red meats, dairy, and fresh produce; coupons will never make a dent in my grocery bill,
My goal is not to have a $40 grocery bill–but, saving $40 from my grocery bill would be great,
My family is not willing to eat frozen or canned fruits or vegetables just because I have a coupon for them,
Store-hopping is not worth the gas in my tank,
Searching circulars is too much work,
Organizing a whole week's menu is mind-boggling,
I despise getting newspaper ink on my hands (no, really…),
Ugh…all this coupon lingo is so confusing, and
Since I save enough money with my frugal family-fun day trips, homeschooling educational goodies, etc. I'll just attribute my high grocery bill to paying for convenience…or laziness
If you felt any of these concerns above, don't worry…I felt every single one of them. So, if I can be such a Confused Coupon Criticizer, and still cut my grocery bill in half in 2-months, you can too!
Tips to cutting your grocery bill in half in less than 2 months:
Involve your kids. Make coupon finding, circular reviewing, and grocery shopping a frugal family fun activity. If it wasn't for my girls to keep me motivated, I would have given up long ago. With every "Mama, I saved $1!" surprised cheer, I was committed to coupon and circular shopping, for the joy first, and then the savings.
Turn boring, cranky errands with kids into a fun family field trips. People are amazed how much fun my three girls and I have as we travel the grocery aisle. Many comment how it's a pleasure to see little astute shoppers, instead of whining, crying, bored kids dragging behind the cart. Since we're homeschoolers, we're always talking about math too.
Stop Clipping Coupons; Organize Them! I use a 3-ring file-pocket and filler-paper binder. While big and clunky, it has everything in its right place. The front side has circulars filed by week, with special fles for "store-specific coupons" (drug-store specific coupons) and "outings" (restaurants, events/field trips). I use filler paper to write out my weekly menu, which for me only lists the meat I'm going to cook for dinner each night.  Also, I list "deals" at different stores. I use binder sleeves to put the receipts in for the week, and have baseball-card sleeves to organize rebates or special little coupons with no particular place to go.
Learn the lingo right from the start. It only takes minutes to review all of Tara's "Learning the lingo" article.
Think Strategic Shopper, not Cheap Couponer. CouponMom.com found that 47% of women who use coupons are educated, affluent women who choose to use coupons, not necessarily out of necessity but for the savings.
Let the Pros "tell" you what to do. Time is money, so stop wasting it. I follow the blog posts of Deal Seeking Mom and the forums of Coupon Mom. When I first got started, I was following nearly a dozen blogs, which left me confused and overwhelmed. Now that I know both website's posting schedule, I'm a loyal follower to only these two frugal and savvy moms.
Survey your starting point, then set a realistic goal. My husband and I use Quicken Online for free. [Con: It saves data for just over a year; so, we're looking around for another program. Any tips?]

We tracked my grocery bill for 6-months and averaged $167.50/week.
Realistic goal: Save 25% in Month-1, then 50% by Month-3.
Track your spending. I have a tiny notebook in my purse that I write all my purchases for the day then submit to Quicken Online at night. [I'm thinking of  getting a Blackberry, so I can submit purchases virtually on the spot].
Don't drive around to save pennies; fit detours for dollars. I keep my coupon binder in my car, so if I happen to drive by one of the stores with special "deals", I make a quick detour.
Shop at discount stores, such as Price Rite, Save-a-lot and ALDI's. I found that Price Rite has the most name brands and best prices, and they carry halal meats (Islamic-permissible foods, like Kosher for Jewish people). Save-a-lot has an email list with $5/off sign-up coupons; and they always have the cheapest bananas in town. ALDI often has good deals beyond grocery shopping that are worth making the additional trip.
Only use cash. If you can, cash forces you to stay within your budget and stretch the bill further, rather than resorting to a debit or credit card's unseen dollars & cents. [It leads to a debt-free life too].
Be patient, persevere, and work on one goal at a time. The success of saving with the non-coupon-clipping, circular-organizing system; is that with every new week you add dozens of more coupons into your personal database. Therefore, you potentially save more money each and every week. Now, that I reached my grocery-bill goal one month early, I'm starting to get into the drug-store coupon/circular shopping strategies, Old Navy Weekly (no luck yet), and other fun savings.
Find a network and stick with these smart & fun chicks! I love Deal Seeking Mom's community. Tara & her guest bloggers' posts are always easy to read and understand and are extremely welcoming and encouraging for any Frugal Newbie, such as myself.
What type of couponer are you? Is your goal to get as many groceries as you can for the least amount of money or just to save on your grocery bill?
Ponn M. Sabra, MPH is a homeschool mom of three girls living with a rare brain disorder and best-selling author of "Empowering Women to Power Network." Ponn blogs at https://www.EmpowerWomenNow.com and https://AmericanMuslimMom.com, the first and only online magazine that offers free tips, tools, reviews, contests and resources for Muslim Moms living in America [Non-Muslims are welcomed too!].