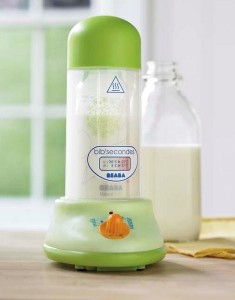 There have been several consumer recalls over the past couple of days that may affect Deal Seeking Mom readers, so be sure to check your stockpile this weekend. Please refer to the links included in each section for more details about the specific recalls.
Don't forget to check your stash for affected eggs or Marketside Grab and Go Sandwiches.
Williams-Sonoma Baby Bottle Warmers

If you own a Beaba Express Steam Bottle Warmer, which uses steam to heat your baby bottles or baby food, you should immediately stop using it and return it for a full refund along with a $25 Williams-Sonoma merchandise card . The bottle warmer is green with an orange temperature dial. "Beaba" is printed on the base and model number 9602 is printed on the underside of the warmer.
Contact Williams-Sonoma toll-free at (877) 548-0850 between 4 a.m. and 9 p.m. PT seven days a week or visit the firm's website at www.williams-sonoma.com for instructions on how to return this product.
Lakeshore Learning Materials Magnetic Maze Boards

Lakeshore Learning Materials has recalled its Magnetic Maze boards because the plastic wands can separate and expose the magnet, which can be a choking hazard to small children.  The wooden boards have a clear plastic sheet that covers small wooden or plastic pieces located inside a maze. A plastic wand containing a magnet in its tip is attached to the board by a cord. The top of the board reads: "Who's Hiding in the Garden?," "Who's Hiding in the Ocean?," "Magnetic Counting Maze," "Magnetic Alphabet Board" or "My Community Magnetic Board."
If you own one of these boards, you should immediately take it away from children and contact Lakeshore to receive a free replacement product. For additional information, contact Lakeshore Learning Materials at (800) 428-4414 between 8 a.m. and 5 p.m. PT Monday through Friday, or visit the company's website at www.lakeshorelearning.com.