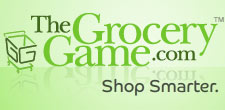 I'm often asked what my opinion of The Grocery Game program is, and frankly, I haven't used it personally in about seven years. There are so many free resources for this information these days that I'm left wondering if there is a real value proposition in paying $10 or more ($10 for the first store and $5 for each additional store) every two months for access to coupon match-ups.
But maybe there's something I'm missing since it's been so long, so I'm putting the question out to all of my wonderful readers.
Do you use The Grocery Game currently? Do you feel it's a valuable resource in addition to blogs?
Or did you stop using The Grocery Game when you started reading blogs? Do you feel that you can get all of the information you need for free?
Of course there's no right or wrong answer, but I'm really looking forward to hearing your opinions, and I know there are many of you out there wondering this same thing.