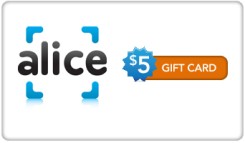 If you're got a spare 12 Swag Bucks in your account, then you'll definitely want to keep an eye out for this $5 Alice.com eGift Card that's showing up in the Swag Bucks rewards!
You can find good deals on household and health & beauty items on Alice.com, all shipped to your door absolutely free, so this $5 eGift card is a fantastic offer.
Not familiar with Swag Bucks? Check out this previous post and start earning today!
(Thanks, Money Saving Madness!)