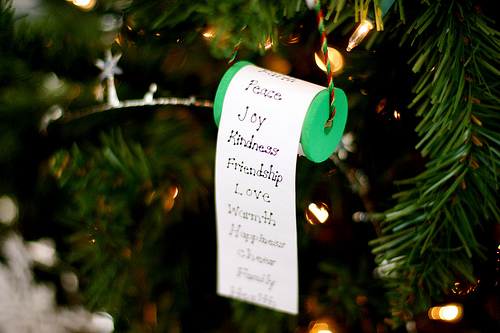 Photo by Lester Public Library
The following is a guest post from Mandi Ehman, the Deal Seeking Mom Project Administrator:
Christmas is only ten weeks away! What can you do today (or this weekend) to save money during this holiday season?
1. Write down your budget.
It's extremely easy to overspend during the holiday season, and the best way to fight back against this tendency is to make a written budget divided into spending categories such as decor, gifts, baking, entertaining, events, etc. so that you can see exactly where you're spending money. Think through all of your holiday expenses now to make your budget as complete as possible, but remember to update it to reflect any additional spending along the way. Keeping a running total will prevent sticker shock when you start totaling receipts in January and realize exactly how much you spent.
To help yourself stick to a budget, consider using cash (similar to the envelope system) or opening an ING Direct Electric Orange checking account dedicated to Christmas spending so that you can't overspend.
2. Consider having "a handmade Christmas."
Handmade gifts don't have to mean popsicle stick picture frames or tin can pencil holders. Thanks to the vast number of resources available across the internet, having a handmade Christmas is easier than ever. Chances are that you can find directions somewhere on the web for almost any project you can think of, from homemade truffles and fudge to a felt crayon roll or handmade candles and potpourris. Or for less crafty options, you could put together a DVD of old home videos or frame kids' artwork.
The keys to successfully pulling off a handmade Christmas are brainstorming, planning and starting early so that you have plenty of time to adjust as you go and make up for mistakes along the way.
3. Make your gift lists.
Similar to having a written budget, having a gift list written down and full of ideas helps you stay on track to buy what you need for everyone n your list without having to make a last-minute run to the mall or place a last-minute online order with express shipping.
As you're brainstorming gift ideas, it's important to find a balance between being specific for things like popular kids toys and having broader ideas for other people on your list (in case you can't find the teal cashmere v-neck sweater you pictured in your mind as the perfect gift for your mother-in-law). Specific is good once you know a certain item exists and is fairly easy to find; it's not so good when you're thinking through possible gift ideas in your mind.
4. Set limits.
Remember that overspending does not lead to a merrier Christmas. Set limits on your budget and the number of gifts you give, and make up for any deficit in dollars with creativity and thoughtfulness!
5. Subscribe to Deal Seeking Mom.
We're already thinking about the holidays here at Deal Seeking Mom, and you can be sure that Tara will have tons of great deals, coupons and sales to share with you throughout the season. She's already mentioned the great toy coupons that came out at the beginning of the month, and my guess is you'll see plenty more of those over the next two months. We've also got some exciting projects in the works to help you with your holiday shopping, so be sure to subscribe by email or in a feed reader if you haven't already!
6. Begin shopping now.
Once you have your budget and gift list, you're ready to start making a shopping list to take advantage of deals as they come along. For example, my little sister is a freshman in college, and I know she'd love this 27-piece set from E.L.F. along with some lip glosses and makeup brushes, so I plan to take advantage of that deal!  Many people have been stocking up all year thanks to the great coupons Bath & Body Works puts out on a regular basis. Be sure to make a baking list too so that you can start stocking up on the ingredients you need as coupons come out on those products.
7. Bonus tip: Budget now for the after-Christmas sales.
The weeks after Christmas are a great time to stock up on Christmas cards, gift wrap and decor at 75 to 90% off for next year!
Have you started preparing for Christmas yet? What's your best money-saving tip for the holidays?
Mandi Ehman is the Deal Seeking Mom Project Administrator. She can also be found blogging at Organizing Your Way, where she shares tips for organizing, simplifying and decluttering as well as home management printables. Subscribe by email or in a feed reader to receive daily organizing tips!