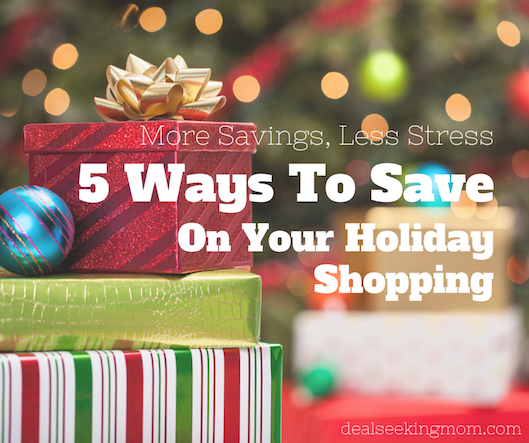 While my kids are counting down the days to Christmas (47 to be exact), I'm sticking my fingers in my ears and singing, "Fa-la-la-la-la," while willing the days to strrrreeeetttccchhhh out somehow. I'm woefully behind on my holiday shopping, but the good news is there's still quite a bit of time and I have a plan.
Well, maybe that's not exactly true… Let's just say that I know what I need to do to get back on track — because having a plan in place makes less stress, and that's when more savings happen! It looks a little something like this:
5 Strategies For Saving On Holiday Gifts
These tips for saving on holiday shopping may just be a refresher for some of you, while for others some or all may be something they haven't tried previously. Either way, I find that, for me personally, it helps to have a plan laid out in black and white, so I don't have to try and mentally check items off and worry that I'm forgetting something. So let's just start with step one and go from there…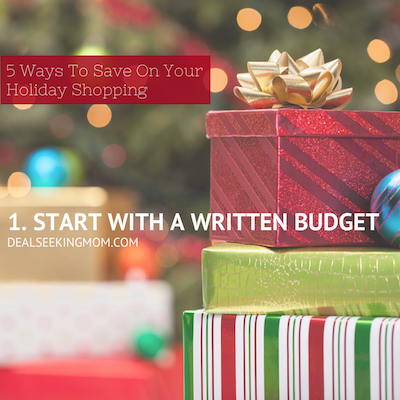 1Start with a written budget.
Yes, I do mean a written budget… I know my faults — I'm easily tempted and somewhat impulsive, so I know that it's all too easy to slip up and overspend without a well-thought out budget in place.
I love that this Christmas budget worksheet divides your budget into areas beyond just gifts, including food, decor, charity, and more, for a more complete view of your overall projected expenditures.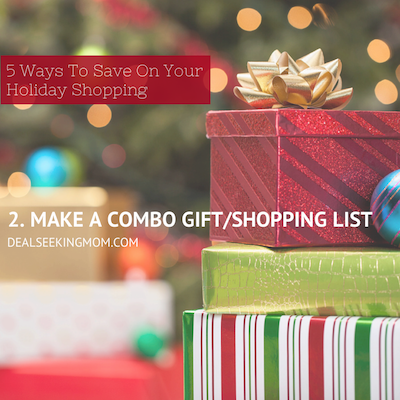 2Make a combination gift/shopping list.
Talk about a way to minimize stress… Having a list that includes everyone that you intend to buy for, along with a few gift ideas for each, makes shopping a much simpler task.
Be sure to leave extra space to allow your gift list to double as your shopping list! Just write down any deals you plan to take advantage of next to the recipient. I know I often come across unadvertised sales that are perfect for someone else on my list, and having a combination gift/shopping list allows me to quickly and easily see if I've already made a purchase for that recipient.
At the end of the season, if you still find that you missed a person or two on your list, don't throw this year's list away! Save it for next year to give you a head start on seeing who you need to buy for.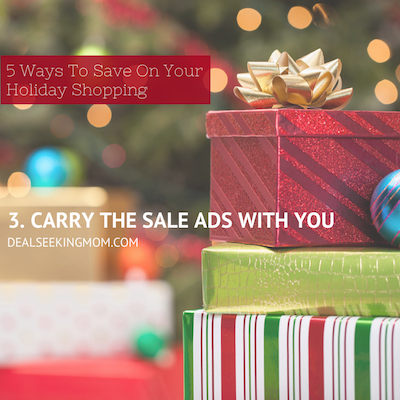 3Carry the sale ads with you when shopping.
I know, I know… hauling the sales ads around with you is a giant pain in the you know what, but they can be a huge help in a pinch. Say you're planning to buy a new iPad Mini 3 at a specific store, but it's sold out when you arrive. With a hard copy sales ad, many stores will honor a competitor's sale pricing!
Or you might come across a deal that wasn't listed in a particular store's ad and want to compare the price to the sale prices at other stores to make sure it's a good deal. Having the sales ads with you will save you both time and money, creating less stress overall. I like to make sure my savings are worth the time I've invested in obtaining them!
Smart phone users can also access the weekly ads for most stores directly from their phones while shopping. How convenient is it to just pull up, for example, the Staples weekly ad, to cross check prices and compare features while you're out and about? I keep the apps for the stores I shop at most frequently in a folder on my iPhone — a total stress minimizer!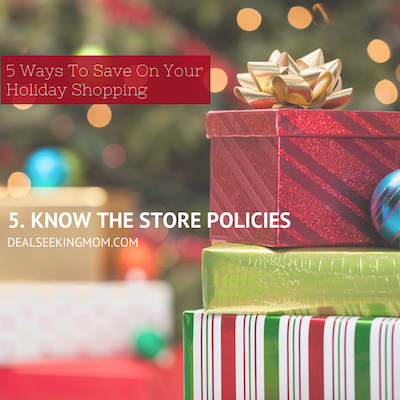 4Research current prices.
Prices fluctuate throughout the season, so research pricing beyond the current weekly flyer to be sure you're getting the very best price. Also, be aware that not all advertised deals are as great as they seem. Sometimes retailers over inflate the suggested retail price of a product to make the sale price seem more impressive. Spend some time researching the low prices of any items you're hoping to score, so that you know what's really a deal and what's not.
Be sure to follow the daily deals for your favorite retailers. Many merchants, like Staples, feature online daily deals, hot gift items at a deeper than usual discount, sometimes in limited quantities.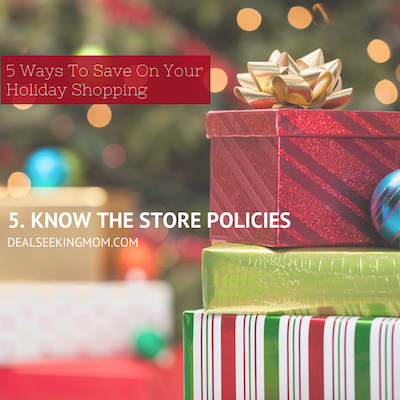 5Know the price matching and receipt adjustment policies.
It's so incredibly disappointing to leave a store thinking you got a fabulous deal only to see your item at an even lower price mere days later. Many stores offer price adjustments when you bring your receipt back in along with proof of the lower price.
I keep an envelope with all of my holiday gift purchase receipts in my purse, so I can easily ask for an adjustment if I spot a better price while I'm out and about. Another stress saver, because I definitely do not want to be making multiple trips back and forth.
Even better, some stores, like Staples, will price match Amazon and other competitors' websites up front this holiday season — allowing you to score rock bottom online prices in stores, minus the shipping fees!
Have you started making your holiday shopping list and checking it twice, yet? What's your favorite money-saving tip for the holidays?
I'm so pleased to be partnering with Staples again this holiday season as part of the Staples Holiday Council! Their ultimate goal this holiday season is to "make less stress, more savings happen." Staples will be offering great deals (including exclusive offers!) throughout the holiday season, helping you get more for less!
This post is brought to you by Staples. All opinions are 100% mine.