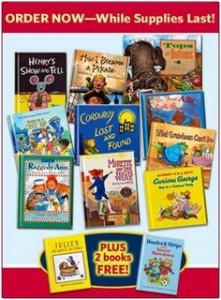 If you're building a library for your kids or just want to add to an existing book collection, this is a fabulous deal!
For just $24.95 plus $3.95 shipping ($29 total), you can get 12 books and their accompanying CDs. Head over to Doodles' Place to get the scoop on how you can score this deal for yourself!


Thanks to Carey for sharing that you can get FREE shipping by using code 134009!
Books included:
Corduroy Lost and Found
Curious George Goes to a Costume Party
Do Your ABC's Little Brown Bear
Henry's Show and Tell
How I Became a Pirate
The Little Engine That Could Goes on a Class Trip
Mirette on the High Wire
Raggedy Ann's Wishing Pebble
Tops & Bottoms
What Grandmas Can't Do
Soccer Showdown
Julius Baby of the World