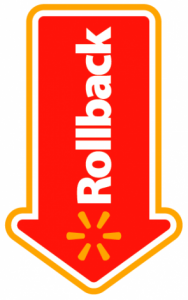 Here's a sneak peek of the national Walmart Rollbacks you'll see in stores starting 5/2. I'd imagine that we may see more coupons available for many of these items after the sites reset tomorrow, so I'll take a look at what's available and update any deals then!
New to couponing? Read up on what all of these abbreviations mean first in my quick reference guide.
Read more about Walmart's corporate coupon policy to make the most of these deals!
:: Grocery Rollbacks
Coca-Cola, Pepsi, Dr. Pepper (24 pk.), $5 (was $6.98-$7.48)
Available in select Walmart locations.
Hidden Valley Ranch (24 oz.) $2.50 (was $3.56)
Betty Crocker Brownie Mix (19.8-20.3 oz.), $0.75 (was $1.44)
Rice Krispies Treats (16 ct.), $3 (was $4.50)
Great Value 100% Apple Juice (96 oz.), $1.50 (was $2)
Cheerios (18 oz.), $2.50 (was $3.50 — available on 5/4/10)
$1/1 Cheerios printable (by email)
**More Cheerios newspaper and printable coupons
As low as $1.50 after coupon!
Crest with Scope (5.8 oz.), $1.50 (was $2.47 — available on 5/4/10)
$0.75/1 Crest Toothpaste, exp. 5-31-10 (P&G 05/02/10)
$0.75 after coupon!
Listerine (1.5 L.), $4 (was $6.27)
$1/1 Select Listerine Rinses, exp. 12-31-10 (RP 12/6/09)
$0.50/1 Select Listerine Products, exp. 5-31-10 (SS 6/14/09)
As low as $3 after coupon!
Chef Boyardee (4 pk.), $2.50 (was $3.68)
$1.50/4 Chef Boyardee Products printable
$2.13 ea. after coupon!
Maxwell House Coffees (33-34.5 oz.), $6 (was $7)
$0.75/1 Maxwell House Coffee printable
$1/2 Maxwell House Coffee printable (IE) or printable (FF)
$1/2 Maxwell House Product printable
$1/1 Maxwell House Coffee, exp. 5-31-10 (SS 3/21/10)
As low as $5 after coupon!
Be sure to check out the weekly Walmart Deals for even more bargains!
I am a participant in the Walmart Moms program. Walmart has provided me the information in the post and has commissioned me to post this. Participation in this program is voluntary. All opinions expressed are my own.