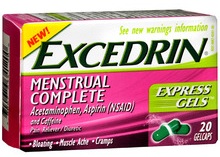 Walgreens has a money-making opportunity coming up that starts this Sunday, February 21st, so I thought I'd let you know now so you can print the necessary coupons!
Excedrin Menstrual Complete (20-24 ct.), $2.50
Get $2 RRs
$2/1 Excedrin printable
Better than FREE after coupon and RRs!
If you'd prefer the regular Excedrin, you can get it for $0.50, but why pay extra when the menstrual complete is the same medication in a pink package? (via MoneyMateKate)
Excedrin (20-24 ct.), $2.50
$2/1 Excedrin printable
$0.50 after coupon!
I like to stock up on pain medication when I can get a great deal like this, because then I can keep a bottle upstairs, one downstairs, one in my purse, one in my travel bag, etc.
Thanks, For The Mommas!