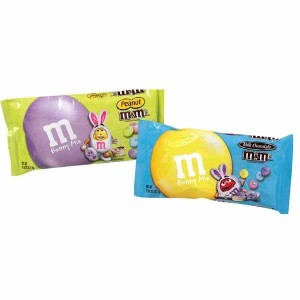 Here are some of the best deals I see at Walgreens this week for Easter candy. There isn't a whole lot in the way of coupon match ups, but there are still some things that are reasonable after the in-ad coupons.
Be sure to check out Mommy Snacks for more Easter candy match ups!


Easter M&Ms (9.9 to 14-oz.), 2/$5
$1/2 Walgreens EasySaver coupon
$1/2 M&Ms Easter Candy, exp. 4-12-09 (V 3/1/09)
$1.50 ea. after coupons!
Easter Candy, $1.99
Fun Size Starburst
SweeTarts Chicks, Ducks & Bunnies
Brach's Bunny Basket Eggs
Easter Creme Pets
Brach's Jelly Bird Eggs or Sweet Time Jelly Beans, 2/$3
Cadbury Egg, 2/$1 (w/ in-ad coupon)
Chocolate Egg, $0.39 (w/ in-ad coupon)
Easter Chocolate (Palmer and Russell Stover), $0.99
Marshmallow Peeps, $0.39 (w/ in-ad coupon)
Be sure to check out the Walgreens weekly deals and monthly deals as well!