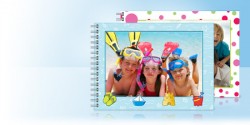 Right now you can get a FREE Flip Book from Vistaprint until 12/31/10 when you pay for shipping and processing!
These make great gifts or "brag books" to throw in your purse or bag to show off your kids. I can't count the number of times I've been asked if I have pictures of the kids on me and all I have is a blurry shot of one of the five taken with my cell phone.
You can also get 50% off most of the other photo products they have available at Vistaprint. This offer ends soon, so take advantage while you can.