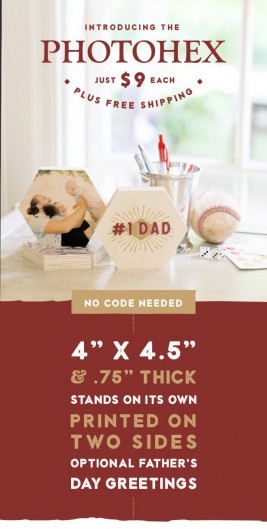 Today you can create your own 4×4.5″ Custom PhotoHex – for $9 shipped from PhotoBarn! Create your custom PhotoHex Print(s) – each one is printed directly on high quality wood.
Here's how to get your PhotoHex:
Visit PhotoBarn
Click "Create" to start creating your custom project.
Upload your picture(s).
Choose the 4×4.5″ PhotoHex Print for $9 (Reg. $30). No special promo code is required for this deal, but if you see something else you want, use promo code: DAD50 during checkout to save 50% off sitewide.
Enjoy your Custom PhotoHex Gift(s)!