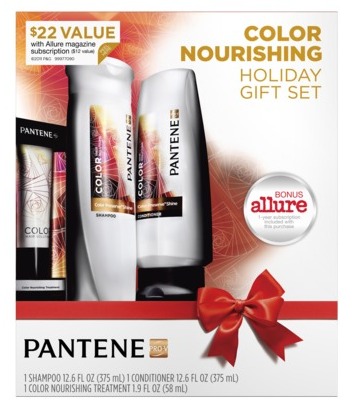 Many Target stores have the new Pantene Holiday Gift sets on sale right now for $9.99. The gift sets includes a bottle of shampoo, conditioner, color treatment, and a card to get a free subscription to Allure Magazine.
However, if you don't want the magazine subscription, you can request a cash refund for the value of the subscription, which is $12. So the Pantene Holiday Gifts Sets end up being totally FREE plus overages!
Here's a great deal scenario for you to try:
Pantene Gift Set, $9.99
Pantene Hair Care Product
$1/2 Pantene Target coupon (RP 9/25/11)
$3/2 Pantene coupon, exp. 10/31/11 (RP 9/25/11)
Send in your $12 mail in rebate
As low as FREE plus overages wyb 2 after coupons and rebate!
(Thanks, Common Sense With Money!)