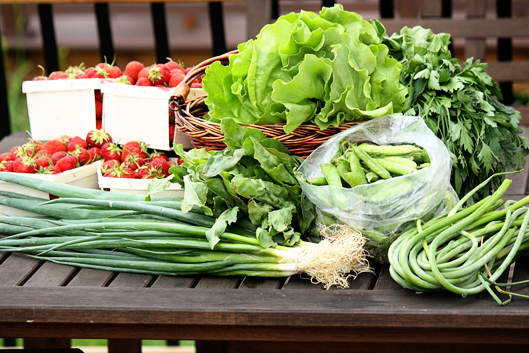 There's no getting around it, fresh produce is expensive — and it's quite rare to find fresh produce coupons. Oh, they're out there, but they're few and far between.
But that doesn't mean that filling your cart with fresh produce has to blow up your budget each week. Here are a few tips that should help your family eat the rainbow each week without breaking the bank!
Buy In Season
It's only common sense that produce would be cheaper when it's in season. And while it can be difficult to pass up your favorites because of the price, take heart in knowing that in season produce is also going to taste much better. Consider the difference between the taste and texture of a freshly picked in season tomato and a hot house grown tomato — world's apart and totally worth the wait!
Plan your meals around what's in season and slash your budget. Not sure what's in season currently? Check out this seasonal produce guide.
Consider The Frozen Alternative
Boxed and bagged frozen produce can be a frugal alternative to fresh produce, especially for produce that's not currently in season. You'll typically find more coupons available for frozen fruits and veggies, as well. Plus frozen produce often beats fresh produce in nutrient content because it's typically processed and frozen within hours of being picked!
Shop The Markdowns
One of my favorite secrets to saving on fresh produce is shopping the markdown section. Well, some stores have an actual markdown section, while others just tag their marked down produce…
Either way, keep your eyes peeled for these gems! Many people are under the misconception that marked down produce is spoiled produce, when in actuality, it just means that it needs to be used within a day or two. Learn to create meals on the fly using markdowns, or pick it up and freeze it for later use as soon as you get home.
We particularly love using frozen bananas in our homemade smoothies, so I have no problem buying up all of the marked down bananas and popping them in the freezer. My kids will even snack on the plain, frozen bananas as a treat.
Buy Only What You Need
It pays to really analyze just how much fresh produce your family can use in a week and buy accordingly to avoid spoilage. Throwing away spoiled produce is like throwing your hard-earned cash in the trash can! And some spoilage is inevitable, but if catch is early on, you can freeze it for smoothies or consider juicing it.
Grow Your Own
Growing your own vegetables is a great way to get the freshest produce possible at rock bottom prices. We've enjoyed pounds upon pounds of tomatoes from the garden this year, as well as fresh cherries, peaches, and apples from the trees in our backyard.
I realize that it's too late to start a garden this year, but there are plenty of herbs that can be grown indoors, and you definitely should consider planting a few trees and/or a small garden in the spring. The initial investment will pay off in no time!
Do you have any other tips for saving money on fresh produce?
This post was brought to you by Kimberly-Clark's Pick Up The Values, a program dedicated to providing families with helpful tips and convenient value to stretch their budgets. Don't forget to download your valuable coupons on the Pick Up The Values website!