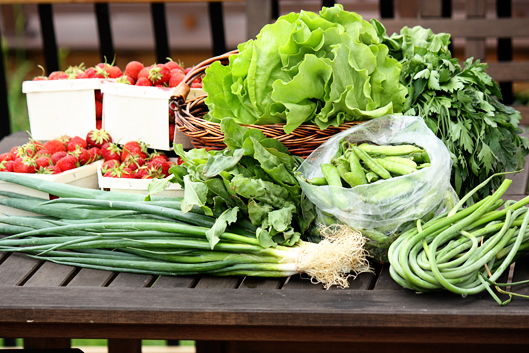 The following guest post is from Melissa of Mom's Plans:
A few years ago, I bought produce as a small accompaniment to my boxed food that I bought for pennies using coupons.  I thought I was being healthy because, after all, if you add broccoli to boxed fettuccine alfredo, it becomes a healthy dish, right?
I may have continued this way indefinitely if I had not developed a food intolerance to milk, and then soy.  Soon after, two of my kids were discovered to be dairy intolerant (and one of them also was also soy intolerant).
Our way of eating had to change.
As a natural progression of eating more food made from scratch, I became interested in organic foods, especially meat and produce, mainly because it tasted better than the conventional counterparts I could buy at the grocery store, and I didn't want any unknown fillers in my food.
Yet, how could we maintain our debt snowball and still buy organic meat and produce?  With some creativity, we discovered that we could do just that.  True, we are spending more than I used to spend in my couponing heyday, but we are spending a little less than the USDA's average "thrifty" cost to feed a family of 5 ($674.40 per month for a family with kids our kids' ages).
Here are the strategies that have worked best for my family:
Saving on Meat
Organic meat isn't cheap, that is for sure, but I don't worry about things like pink slime being included in my meat.  Also, organic animals tend to eat less soy, which is better for me.
Buy directly from the farmer. My cousin's husband raises Angus cows, and every 12 to 18 months, we buy ½ of one side of beef.  We get fancy steak cuts and beef tenderloins (which we could never afford to pay for at the grocery store) as well as ground beef.  The average price per pound for any type of meat bought this way for us is right around $5 a pound.
Join a meat CSA. This year we also joined a meat CSA.  We paid $785 upfront and get an organic meat delivery once a month.  We get enough meat to fill a brown paper sack, all of it organic.  Last time we received ground beef, lamb steaks, pork chops and pork tenderloin as well as a few other cuts of beef.
Stretch your meat consumption.  We do our best to use meat as an accompaniment to the meal.  Recently I browned a pound of ground beef and mixed it with some salsa.  I used some of that meat on my salad, and the next day, I made enchiladas using the rest of the beef and refried beans.  I was able to feed 3 adults and 3 children, and I had enough leftover enchiladas for my lunch and one of my children's lunches the next day.  That beef was utilized in three meals.
Ration your meat. Amy Dacyczyn, the original frugal zealot and author of The Tightwad Gazette stocked her freezer full every summer and fall and then made a chart dividing her bounty up for the year.  We use that strategy with our meat consumption.  I recently bought ½ side of beef all as ground beef and got 92 pounds.  I divided that out and now know that I can't use more than 7.5 pounds a month if I want it to last for a year.  I plan to also stretch our 6 month meat CSA out to last a year.
Take advantage of Costco. Costco sells organic ground beef at about $5 a pound, and they also sell whole organic chickens and chicken breasts.  We buy two organic chickens every month or two, roast them in the slow cooker, shred the meat and put it in the freezer for future meals and use the remnants to make organic chicken stock.
Saving on Produce
In my early days of buying organic produce, I spent way too much because I shopped exclusively at Whole Foods.  Even if I just bought produce that was on sale, I spent too much.  Gradually, I learned some strategies that helped me lower my costs.
Shop at your regular grocery store. More and more stores are adding organic produce.  Before you shop, scan the ads to see what stores are offering organic produce on sale.  Often I can find organic carrots on sale and cheaper than conventionally grown.  If you combine the deals with the organic coupons that are available, your savings can be significant.  (Make sure to consult Deal Seeking Mom's Thinking Organic Thursdays every week for great coupons!)
Grow your own garden. Gardening fell out of favor as our society grew busier, but now people are taking a renewed interest in both saving money and knowing where their food comes from, so interest in gardening is increasing.  If you own your home, you could create a garden right in your yard.  If you are new to gardening, start with just a few simple, easy to grow crops that you can freeze for use in the winter such as peppers and zucchinis.  If you rent, consider finding a community garden where you can garden.  That is what we are doing this year.  For $20, which is returned at the end of the season, we get a 4 x 8 plot to garden.  Another option is container gardening, which is possible for almost everyone.
Join a CSA. CSA stand for community supported agriculture.  Basically, you invest your money upfront in the farmer (typically spending $280 to $800 depending on the size of the CSA you sign up for), and then beginning in June and running for 20 weeks through October, you get a delivery of produce straight from the farm.  A site like Local Harvest can help you find CSAs in your area.
Go straight to the farm. Localharvest.org can also help you find farms in your area where you can pick up organic produce and/or pick it yourself.  We recently went strawberry picking as a family and ended up with 44.5 pounds of organic strawberries for $91, or approximately $2 a pound.  We froze 17 pounds of whole strawberries for use later in the year and made 21 pints of jam for the rest.
Preserve your produce. If you have the time and are so inclined, a great way to keep the cost of your organic produce low is to buy it in season straight from the farm and then can it and/or freeze it.  Sometimes I make whole meals that I know freeze well and then not only have I preserved fresh produce, but I also have dinner made for a busy night.
Take advantage of wholesale delivery.  If you live in the West, you can take advantage of Bountiful Baskets, which offers organic produce at a price on par with conventional produce.  (I am so envious of those of you who live in the area they service!  If only they would come further into the Midwest!)  If you live in California, you can also take advantage of Abundant Harvest Organics.
We are accustomed to thinking that buying organic meat and produce is out of reach.  Certainly, it does cost more than processed foods you can buy with coupons.  However, organic produce just tastes better, and the health benefits of eating fresh versus processed foods can't be denied.  With some diligence and strategizing, you can eat local, organic meat and produce without breaking the bank.
What are your favorite strategies for saving on organic meat and produce?
Melissa blogs at Mom's Plans where she shares her adventures feeding her family healthy, tasty food and paying down debt incurred while her husband got his Ph.D.  This summer she can be found in her kitchen, canning, freezer cooking and trying new veggies in her CSA basket.