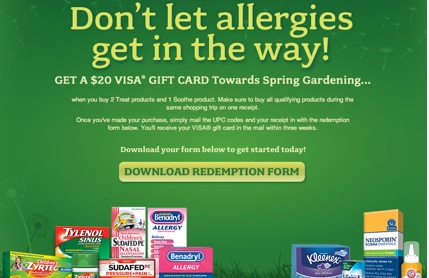 Here's a great deal to add to your list at Walmart this week.  Check out this great $20 Visa Gift Card Rebate offer that makes for some better-than-free Benadryl and Kleenex!  You can score a $20 Visa Gift Card when you buy 3 participating items.  Combine this offer with coupons for an even better deal:
Benadryl (24 ct.), $4.44 ea.
Kleenex Facial Tissues (85 ct.), $0.97 ea.
$3/2 Sudafed Adult PE, Sudafed Children's PE, Benadryl, Children's Benadryl, Tylnol Sinus, Visine or Neosporin Eczema Essentials Product, exp. 5/10/14 (SS 04/13/14)
Submit $20 Visa Gift Card Rebate offer
$13.15 money-maker after coupon and rebate!
Check out more great Walmart deals before you go shopping.
Thanks, I Heart The Mart!