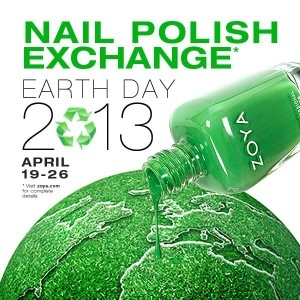 Zoya by Art of Beauty has a great Earth Day Nail Polish Exchange program.  You can clean out your nail polish collection and get rid of old nail polish that may not be "BIG5FREE" (Free of Formaldehyde, Formaldehyde Resin, Toluene, DBP and Camphor) and exchange it for Zoya's greener alternative!
Here's how Zoya's Exchange Program works:
Visit Zoya.com and pick out the nail polishes you would like (ALL Zoya PixieDust Collection shades excluded) and add them to your shopping bag. You must select at least 6 bottles and no more than 24 bottles of polish.
When you're finished (you've added at least 6 bottles of nail polish to your bag), proceed to "Checkout."
Enter the coupon code ZOYAEARTH2013 to get your 50% discount.
Standard shipping starts at $6.95 and will be added to your order.
Confirm and submit your order and enjoy your new nail polish!
* Once you get your order, you will ship back the same number of bottles you received. (For example, if you ordered 6 bottles of Zoya Nail Polish – you would send back 6 non-Zoya polishes.)  Zoya will dispose of the old polish properly. Include a copy of your order for their processing records.
Ship your old nail polish to:
Art of Beauty, Inc.
c/o Polish Exchange
5060 Taylor Rd, Unit D
Cleveland, Ohio, 44128, USA
*Offer expires on 4/26/2013 at 11:59PM EST. Please check with your carrier on the proper way to ship nail polish. See Zoya for full program details!
(Thanks, Mission to Save!)