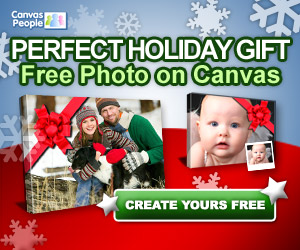 I heard that this offer will be ending at the end of this month, so I wanted to remind you that you can get a FREE Photo Canvas from Canvas People, a value of $55! You only need to pay the cost of shipping and handling which is about $15.
Here's how to get your FREE 8×10 photo canvas:
Upload your photo and design your canvas.
Shipping and handling is around $15.
You could still give one of these for Christmas. Just wrap up a photo print of the pic that you're having turned into a canvas and let them know that their canvas is on its way!