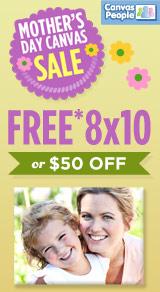 Just in time for Mother's Day – you can get a FREE  8×10 Custom Photo Canvas from Canvas People, a value of $49.99! (Or enjoy $50 off a larger photo canvas – which makes an 11×14 canvas only $17.99!  You'll only need to pay the cost of shipping and handling which is about $15.
PLUS you can enjoy a FREE one-year subscription to Family Fun Magazine!  You'll get 10 issues packed with fun crafts and ideas with the purchase of any canvas print starting at $14.95.  Already have or don't want Family Fun Magazine? You can forfeit the subscription and get a refund for the value instead!  You'll find complete details at the bottom of your checkout cart – just click "Offer & Refund Details" for step-by-step instructions.   
Here's how to get your FREE 8×10 photo canvas:
Upload your photo and design your canvas.
Shipping and handling is around $15.
Be on the lookout for the FREE Family Fun Magazine subscription offer too – either enjoy your FREE mag or enjoy the refund value – which makes this an even better deal!
You can also get $50 off any larger photo canvas  – up to 20×48! Be sure to order by 4/26 to guarantee delivery in time for Mother's Day!
Thanks, Mission to Save!