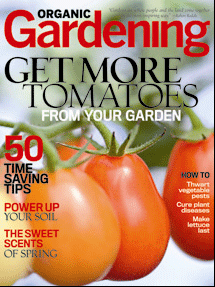 Register with the Stonyfield Farm Community and then sign up to receive a free subscription to Organic Gardening magazine.
(Thanks, Tribal Talk!)
Plus, whether you're a seasoned gardener or just thinking about attempting one, you should consider signing up for this fantastic Do-It-Herself Workshop at Home Depot.
On May 14th from 7:00 to 8:30 p.m. they're offering a Yard and Garden Maintenance clinic that will cover the following topics:
Effective watering and fertilizing techniques
Creating colorful accents with containers and baskets
Go organic and grow your own vegetables
I'm definitely taking advantage of this one. We're looking at getting this for our backyard – a little pricey, but I think it's worth it after pricing wood to do it ourselves.
Have you started prepping your garden yet?