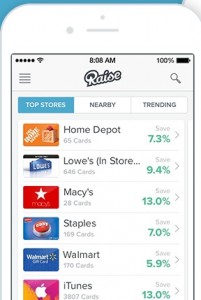 Raise.com is an online site that allows you to buy gift cards at a discount and sell unwanted gift cards too. Open a new Raise.com account and enjoy a $5 credit to your account AND $5 off your $50 purchase with promo code FALL5. I actually made $138 in one day by selling gift cards I knew we weren't going to use!
Bonus tip: Buying gift cards at a discount is a great way to save a little extra when doing your holiday shopping. Whether I'm buying in stores or online, I always check Raise for discounted gift cards first!  Here are some examples of discounts available:
-AMC Theatres: Up to 20% off (Get a $50 gift card for $41)
-Burlington Coat Factory: Up to 20% off ($200 gift card for $162 or $100 gift card for $84.18)
-iTunes: Up to 8.5% off ($100 gift card for $91.50)
-Wendy's: Up to 18% off ($50gift card for $40.85)
Here's how to get started:
Go here to create a new account with Raise.com. Make sure that your referral code says: dseeking
During the registration, Raise will ask for your mobile phone number — this is just to confirm your account via a code that will be sent in a mobile text message.
You can now ask to be notified when a favorite stores get listed at a discount (like Pier 1 Imports, Panera, Macy's and more!)
Be sure to use promo code FALL5 during checkout to save $5 off your $50 order.
Have you tried buying or selling a gift card on Raise yet?