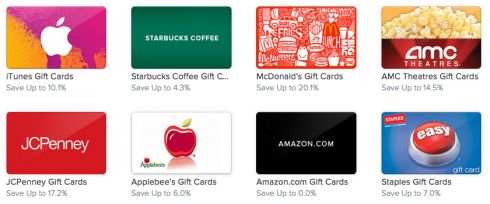 Raise.com is an online site that allows you to buy gift cards at a discount and sell unwanted gift cards too.
New members enjoy a FREE $5 credit on Raise.com:
Right now, when you sign up for a new account on Raise.com, you will instantly get a FREE $5 credit to your account! You can turn around and use your $5 credit to make a purchase from their HUGE selection of already discounted gift cards — maximizing your shopping dollars (and savings)!  PLUS for a limited time you can combine this with promo code FALL5 to save $5 off your $50 purchase.
Here's how to get started:
Go here to create a new account. Make sure that your referral code says: dseeking
During the registration, Raise will ask for your mobile phone number — this is just to confirm your account via a code that will be sent in a mobile text message. Your FREE $5 credit will be applied to your account instantly upon confirmation!
Choose your favorite gift cards to save on (how about a $25 Starbucks Gift Card for $18.70, or a $50 Panera Gift Card for $38.95?!)
Use promo code FALL5 during checkout if your order is over $50 to save an extra $5!
Discounted gift cards + what amounts to basically FREE money = a total win-win for your bottom line!!!
Have you tried buying or selling a gift card on Raise yet?