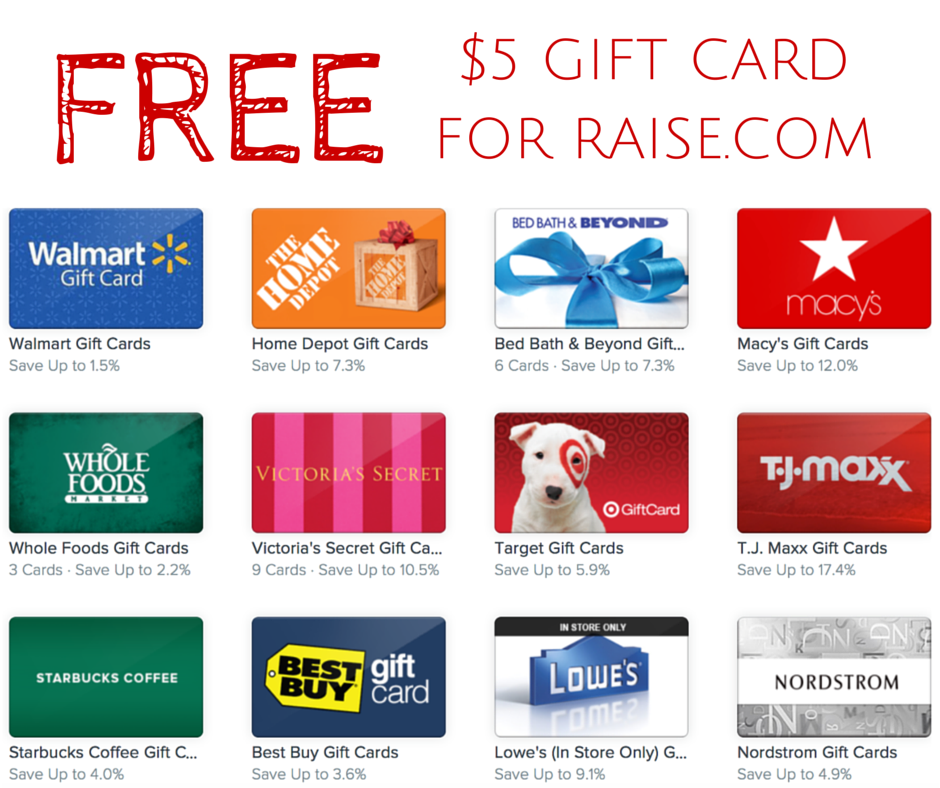 Wow, this is an awesome freebie from Raise! If you're not familiar with Raise, Raise.com is an online site that allows you to buy gift cards at a discount and sell unwanted gift cards too.  If you missed it earlier this month – catch up on how I recently sold a gift card for the first time.
Get your FREE $5.00 credit on Raise:
Right now, when you sign up for a new account on Raise.com, you will instantly get a FREE $5 credit to your account! You can turn around and use your $5 credit to make a purchase from their HUGE selection of already discounted gift cards — maximizing your shopping dollars (and savings)!
Here's how to get started:
Go here to create a new account. Make sure that your referral code says: dseeking
During the registration, Raise will ask for your mobile phone number — this is just to confirm your account via a code that will be sent in a mobile text message. Your FREE $5 credit will be applied to your account instantly upon confirmation!
Discounted gift cards + what amounts to basically FREE money = a total win-win for your bottom line!!!
Have you tried buying or selling a gift card on Raise yet?  You can snag a great deal right now on a Southwest Gift Card too!
You'll find $100 Southwest Gift Cards on sale for $96 right now. You can pair that with your FREE $5 credit AND the coupon code RAISE75AF (which will take another $5 off) and you can score a $100 Southwest gift card for just $86!
Thanks, She Saved!