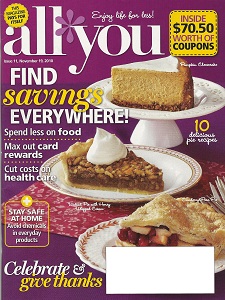 Eversave has a super hot deal on magazines this morning, including All You magazine. Purchase a $26 Blue Dolphin voucher for $12 — or if you're new to Eversave, you'll receive an immediate $5 credit when you register making it only $7!
Blue Dolphin has loads of magazine subscriptions on their site, including All You magazine priced at $19.97. After your $26 voucher, you'll still have $6 to spend on another subscription.
Or I know many of you were disappointed that the Food Network magazine price increased so quickly the other day. Blue Dolphin has it for $18, so you could use your voucher for it and still have another $8 to spend.
Here's how to score this deal:
If the Blue Dolphin offer is not available in your city, click on "View a Different Location" at the top of the screen and select Atlanta.
Make your purchase — your total should be just $12 if you're an existing member or $7 if you're a new member!
You'll receive your Blue Dolphin voucher within 48 hours.
This offer expires at 11:59pm EST on 10/29, but they may sell out before then, so I wouldn't recommend waiting until the last minute! You may buy up to five vouchers, but you can only use one per purchase.
Voucher Expires: Sep 30, 2011. Coupon Code available 2 days after purchase at 12:00:PM EST. May buy up to 5 Saves for family, friends, gifts or repeat purchases. Use one coupon code per purchase. Free shipping is included.
(Thanks, Coupon Teacher!)