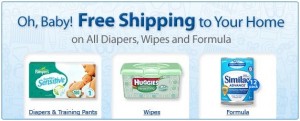 Treats for Baby Tuesday is brought to you by Marybeth Hamilton, mom to "two under two", a wife, a number-cruncher and a bargain shopper! Marybeth blogs about baby, child and maternity deals 7 days a week at Baby Goodbuys.
If you're a loyal Walmart shopper (or if you just like getting essentials delivered to your home) you'll be happy to learn that Walmart.com is now offering FREE shipping to your home for diapers, wipes and formula purchases.
OshKosh online is offering 40% off a big selection of new arrivals for fall. Use coupon code KP4HZNNE to save $10 on your purchase of $50.
Register at Luvs.com or update your existing account and you'll be able to request two coupons to save $2.50 on Luvs diapers! Look for the checkbox on the right side of the page after you log in!
BabyLegs is celebrating Independence Day with a big 4th of July sale! Items start at just $4 and you can use coupon code HEIRTOBLAIR to save an extra 20% on your total purchase.
If you're a Costco member, be sure to check out the clothing section and look for Hanna Andersson brand clothing! Lots of shoppers have found toddler sleepware for $12 and dresses for $10!
If you're looking for BornFree bottles, be sure to take a look at The Vitamin Shoppe. They have a limited selection, but their BornFree bottles are 49% off!
Current Diaper Deals:

Rite Aid: Jumbo packs of Huggies are $8.99 this week. Submit your Single Check Rebate for $2 back and use a $3 manufacturer's coupon to score Huggies for just under $4 after all discounts.

Rite Aid: Buy a jumbo pack of Pampers through 7/24 and submit a Single Check Rebate to get $2 back!

CVS: Jumbo packs of Pampers are $8.99, plus you'll get a $1 ExtraCare Buck with your purchase. Throw in a manufacturer's coupon to get your Pampers for a great price!
See the previous Treats for Baby Tuesdays for more offers that are still available!