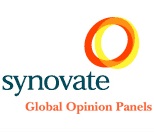 Good news — the Synovate Global Opinion Research application is available again. I know last time I posted it there were some issues with the form, but it's definitely up and working this time! Along with Pinecone Research, it's one of the most frequently recommended paid survey panels by Deal Seeking Mom readers.
The main difference between Pinecone and Synovate is that you will not earn cash for every survey. With Synovate, you'll earn points that you can redeem for cash once you reach a specified threshold.
You can read more about what DSM readers think about Synovate here.