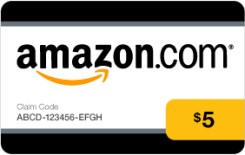 Don't miss the Swag Bucks Swagananza Deal of the Day today!
Every day in December, Swag Bucks will be discounting the gift cards that you can redeem through their site. Today's discounted offer is a $5 Amazon gift certificate for 40 Swag Bucks!
Basically it's a site that allows you to earn great prizes such as iPhones, iPods, concert tickets, gift cards, and more just for using them to search the Internet. For example, a $5 Amazon.com egift card is only 45 Swag Bucks!
If you're not registered with Swag Bucks, you can get 3 SB just for signing up today. Then read this post for some tips on how to start earning!
Thanks, Mom for Him!