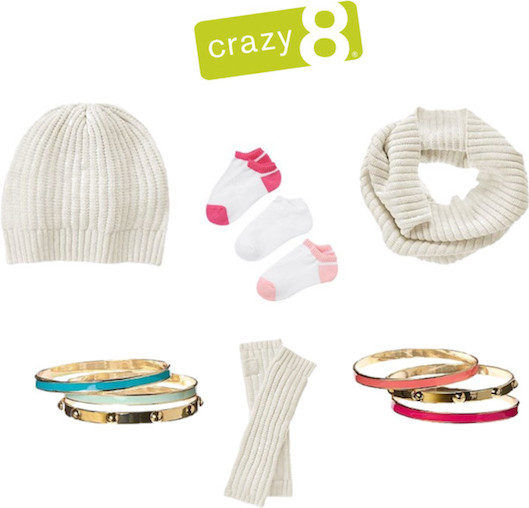 I'm determined to get a jump on Christmas this year so that I'm not boxing and wrapping and stuffing at the last minute. Who's with me?!
I'm actually doing really well so far — all I need to pick up are a few stocking stuffers. So when an email from Crazy8 landed in my inbox this morning sharing their 30% off everything sale, I figured it was worth a peek. I am so glad that I clicked through, because I picked up a slew of *cute* stocking stuffers for my girls at a total steal!
Get 18% Off Your First Crazy8 Order
First of all, if you're not already registered to receive Crazy 8 emails, I highly recommend you get signed up… You'll receive a promo code worth 18% off your first online order! Just look for the signup box at the bottom right-hand side of the homepage.
I used my promo code on top of their already awesome sale prices, and I picked up all of the items pictured above (times two!) for my girls:
Stud Bracelet 3-pack — I got these cute 3-packs of bracelets in both turquoise and pink, each of my girls' fave colors. It looks like they're just down to the maroon color, but they have lots of really cute jewelry options!
Sparkle Ribbed Infinity Scarf, Hat & Fingerless Gloves — What girl doesn't love a little sparkle?! And I know my tech-loving girls will appreciate the fingerless gloves so they can wear them and still play with their devices.
Ankle Socks 3-pack — Although I know it's just the beginning, the sock-stealing is already growing old. Soon enough it will be sweaters and pants, etc., but in the meantime, I'm hoping that tucking a couple of extra packs of new socks in my girls' stockings will keep them away from my sock drawer!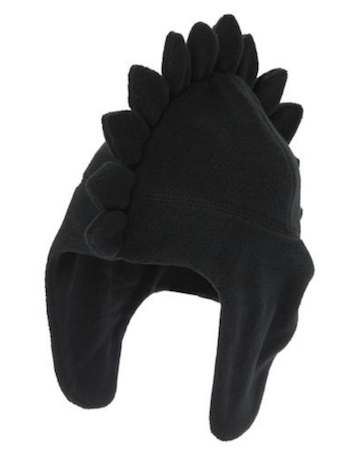 Of course, Crazy 8 has lots of great stocking stuffers for boys, as well! I'm already set on stuff for my boys, but I'm seriously considering placing another order for this adorable Dino Hat for my dinosaur fanatic 7-year-old.
Win A $50 Crazy8 Gift Card!
Check out all of the gr8 gifts for kids here, and then enter to win a $50 Crazy8 gift card below!!!
Disclosure: Sponsored by Crazy8, all opinions are my own. Thank you for supporting the brands that support this site!