Photo by Steven Depolo


We're down to the wire on Back To School shopping, and for many of us, kids have either already started or will be starting next week. The National Retail Foundation estimates that the average family will spend $96 on school supplies, which is nearly 10 percent more than last year. Is it too late to score a good deal, or are there still deals to be found if you know where to look?
I headed out to my local Walmart last week with ABC 6 On Your Side to see what we could find out. You can check out that segment here.
After leaving Walmart, I headed over to Target to do a price-for-price comparison. To be completely fair, I didn't use any price matching or coupons, and I only compared like items of the same brand and size. I have to say the results kind of surprised me: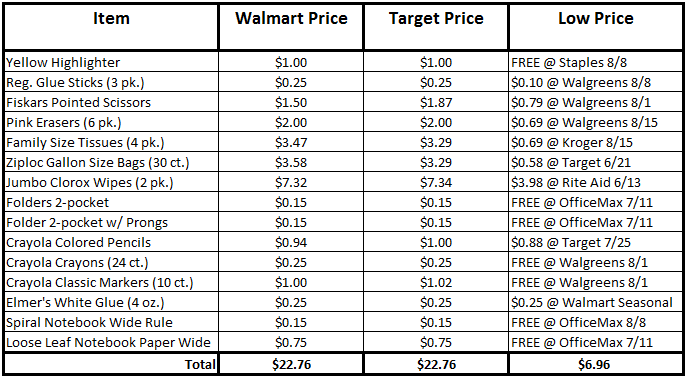 As you can see, Walmart and Target came out dead even. I completely expected Walmart to top Target with their everyday low prices, but then again, I live in a very competitive market.
Of course, if you've been a savvy shopper and stocking up on the loss leaders since the deals started in late June/early July, you'll have picked up the same list for a fraction of what you'd spend right now. But in all cases, we've ended up far below the retail average.
What are some tips for saving on last-minute Back To School supplies?
Make a list — If you create a list and stick to it, you're going to ensure that you get everything you need in one trip. This is especially helpful if you have several students. Combine all of their lists into one master list, and you'll save yourself a huge headache.
Take inventory — I know my kids came home with bags of unused glue sticks, pencils, erasers, scissors, etc. at the end of last year. Don't let these items go to wast. Take them into consideration when making your list for this year. Likely you'll find many of these items listed once again.
Do your homework — Gather up those current sales ads and see what the prices are like this week so you can plan your trip accordingly.
Save on gas — Utilize price matching so you're not running all over town. Carry all of your ads into a store and have that store meet the advertised prices. Walmart and Target both offer this service, but in my opinion Walmart has the advantage here because they will do it right at the register without the additional hassle of lugging your items to the customer service desk.
Don't forget your coupons — More and more schools are asking parents to supply classroom items outside the traditional school supplies. Items on our list include things like hand sanitizer, Clorox Wipes, Kleenex, and Ziploc Bags. You'll find coupons available for all of these items in the Deal Seeking Mom Coupon Database.
So where would I choose to shop given the fact that Walmart and Target were evenly matched in this case? For me it comes down to ease of use.
As you can see in the news segment, my Walmart store was well organized with wide aisles and everything located where I could quickly and easily get in and out. Target, on the other hand, looked like a war zone. I spent a good 30 minutes trying to find all of the necessary items on my list, and several items were out of stock, which left me heading back to Walmart to finish up my supply list.
So what store is your first choice for purchasing school supplies? If you've already shopped, did you come in above or below the national average of $96?
I am a participant in the Walmart Moms program. Walmart has provided me with compensation to perform the above shopping comparison. Participation in this program is voluntary. All opinions are my own, always have been, always will be.