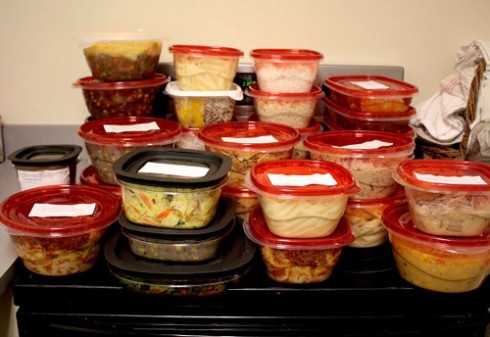 Photo by Rubbermaid Products
The following guest post is from Melissa at Mom's Plans and Dining Out Challenge:
Yesterday we looked at the benefits of freezer cooking and some helpful resources. Today we're going to look at the process and tips:
I hear from many moms (and dads) that they would like to stock their freezer with meals, but they don't know where to begin.  They are overwhelmed by the entire process.
You can do this!  Just start small.  Don't plan on cooking 15 meals for your family the first time you try freezer cooking.
You can start slowly by picking 5 meals for one week and doubling each meal on the night you cook it.  Just like that, you have 5 meals in the freezer for later in the month.
If you'd rather jump into the process, I would still say start small.  Plan no more than 5 different meals for your family and double each recipe so you have a total of 10 meals in the freezer.
Steps to Follow to Make Your Freezer Cooking Day Go Smoothly
Choose your recipes. Try to pick a variety of dishes, such as one chicken meal, one beef meal, etc.  Also, choose a variety of meal types.  Nothing could be more boring than having to eat endless casseroles all month.  Finally, choose a variety of cooking methods—one slow cooker recipe, one oven recipe, one stove top recipe, etc.  That way you can utilize various cooking methods and make your freezer cooking day much more productive.
On the day before your freezer cooking day buy your groceries. Look for ways to save time on your actual cooking day. For example, if you know you will need cubes of chicken, buy your chicken and ask the butcher at the grocery store to cube it for you.  Most do this for free, and it will save you a great deal of time.
Chop all of the veggies you will need for your recipes. Again, if you want to save time, consider buying your veggies already chopped at the salad bar.  Of course, this is a much more expensive method than doing it yourself.
Write out a freezer cooking plan. See an example freezer cooking plan here.  Yes, it takes more time in the beginning to do this, but you will find it invaluable when it is the actual cooking day.  An ordered list makes the whole process much smoother.
Freezer Cooking Day
1. If you have young children, ideally have someone watch them so you can focus on cooking.  On the day I do my freezer cooking, my husband takes care of the kids so I don't have to be interrupted.
2. Choose a day when you don't have many responsibilities.  It is hard to get all of the freezer cooking done if you have to take your son to soccer at 10 a.m. and your daughter to dance at 1 p.m.
3. If you have older children at home, enlist their help.  They can stir a meal simmering on the stove while you begin another recipe, or they can do dishes to help you stay caught up.
4. Follow your plan.  If you have a slow cooker meal planned, start that one first as it will take the longest.
5. Make sure to take breaks.
Storing Your Freezer Meals
Proper storage is necessary to keep your meals fresh.  Make sure to use heavy duty freezer Ziploc bags and heavy duty aluminum foil.
To maximize your freezer space, place soups, chilis, etc.  in a Ziploc bag with the name of the meal and the date made.  (You may also want to place the reheating instructions on the bag.) Distribute the ingredients in the bag so it lays flat and then place it that way on a cookie sheet in the freezer until it is frozen.  You will be able to stack your meals so they take up the least amount of room.
Many people think that they can't do once a month cooking because they don't have a deep freezer.  While it is convenient to have a deep freezer, it isn't essential.  You can store many meals in Ziploc bag "stacks" in your regular freezer.
Many people are intimidated by the idea of making many of their meals for the month in one day.  I hope this guide has helped you realize that it is not as intimidating as people think.  With a little planning and a fair amount of work on the actual cooking day, you can save your family money and provide them with healthier foods.  Try it.  You will see it is possible.
Melissa is a recent convert to once a month cooking and can't imagine cooking a meal every night now.  She is the mom to three young children, 6, 23 months and 5 months.  She blogs about eating healthy, freezer cooking and managing family resources at Mom's Plans.  Her other blog, Dining Out Challenge, is about her family's attempts to eat out for $25 or less a week.