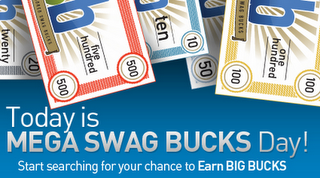 It's Mega Swag Bucks Friday, and you know what that means — you can earn Swag Bucks in increments of 10, 20, 50 and up to 100!
If you're not already a Swag Bucks member, register now so you can claim three FREE Swag Bucks, and then read through this post to learn more tips on how to maximize your Swag Bucks earnings.
I've only won one SB so far today, but the day's not over yet. What's your biggest win to date?