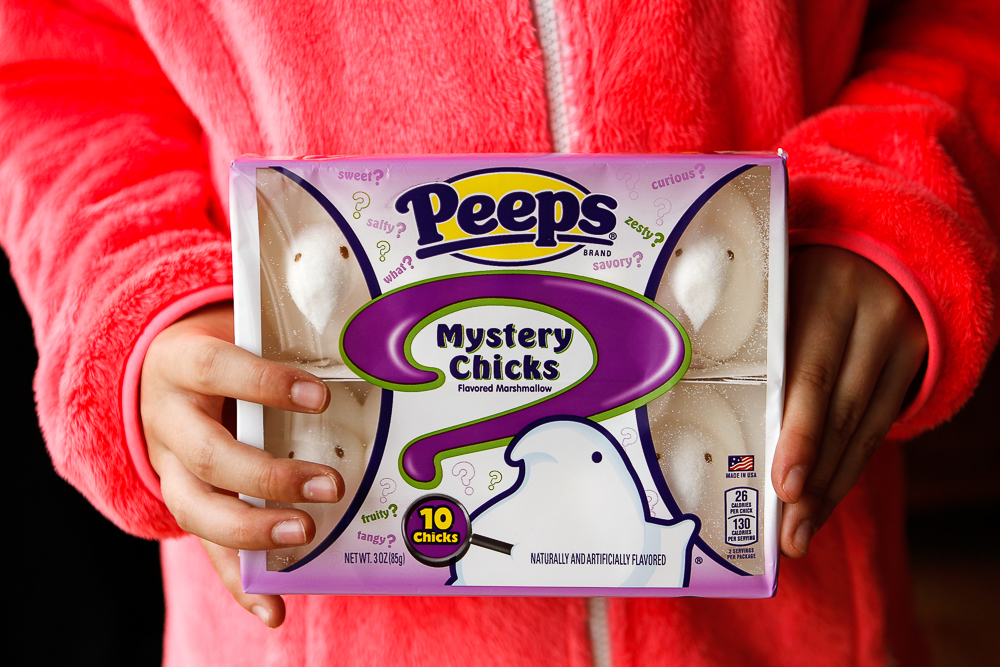 It's no secret that we keep things low key around here when it comes to Easter baskets… Longtime readers may recall that I took quite a bit of flak a few years ago when I shared the budget-friendly Easter basket that I built for my kids to share!
Yes, it still blows my mind that there were some readers who were appalled that I "forced" my five kids to SHARE a single Easter basket, but I can assure you that they were NOT scarred for life when they all came tumbling downstairs on Easter morning. In fact, as soon as they found all of the plastic eggs hidden throughout the house, they were beside themselves to get their shoes on and head outside to play with the bubbles, bouncy balls and sidewalk chalk. Not one. single. complaint…
It's not just Easter, though — we lean heavily toward gifts that spark creativity and imagination and family activities for all holidays that we celebrate. Example, just last week we made these cute "carrot" strawberries and turned them into Carrot Patch Oreo Dirt Cups. I'm pretty sure that the time we spent together creating and making messes, while talking and laughing, will stick with them for years to come.
Before we made them, my kids and I stopped by Walmart after soccer practice to pick up a few ingredients we needed. We ended up in the Easter section to pick up the Wilton Orange Candy Melts, so we took a look around. They really have some very cool items stocked right now!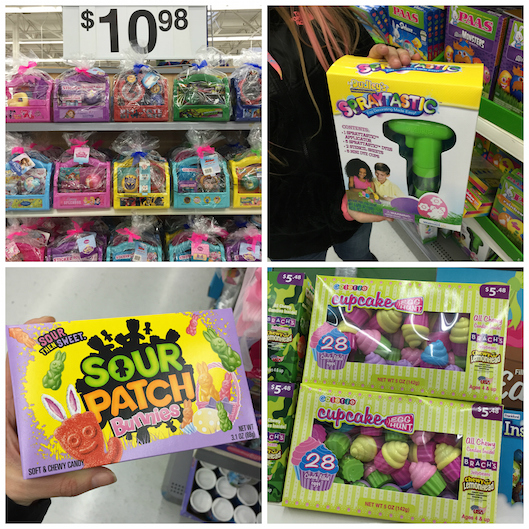 Some of my favorite finds:
While I was drawn to the wide selection of willow, bamboo and woodchip baskets (starting at $7.98), my younger kids headed straight for the licensed character Easter baskets pictured above. I can't say that I'm surprised, since they feature some of their favorite characters, like Frozen, Transformers, and Disney Princess.
We contemplated picking up one of the Spraytastic! egg decorating kits, but we had so much fun making these Rubber Cement Dyed Easter Eggs, that we'll probably use that technique again.
I may sneak back to get a box of those cupcake candy-filled "eggs" for my girls, and I'll admit to tossing a package of the Sour Patch Bunnies in my basket. What can I say? I'm not really big on candy, but Sour Patch Kids are totally my weakness…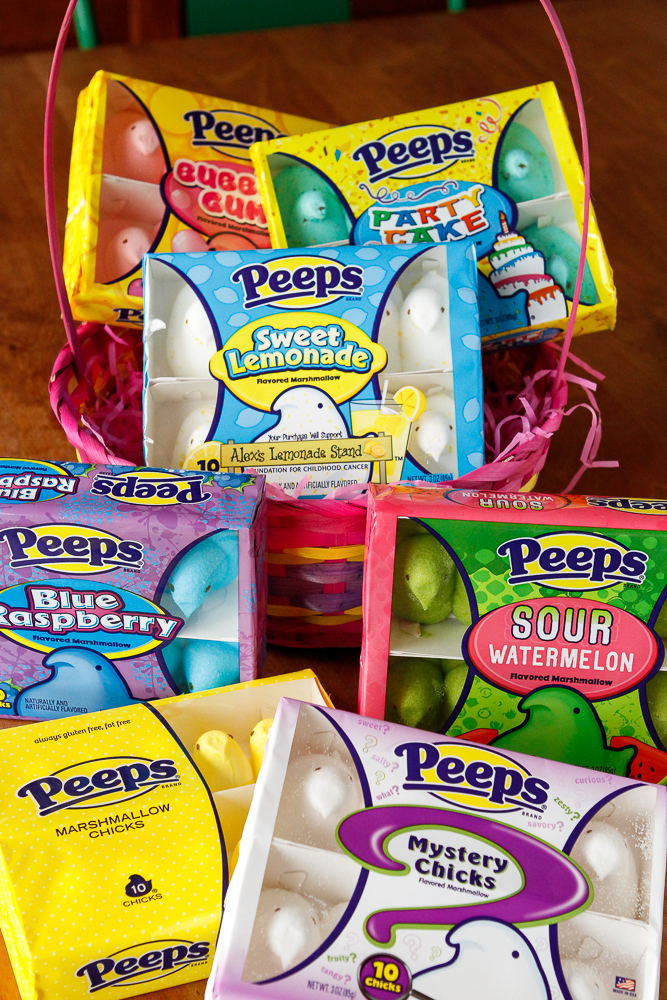 Peeps Taste Test Easter Basket
I also ended up tossing several packages of Peeps into my cart after my kids came up with this idea for a Peeps Taste Test Easter basket. Even though I *really* try to limit the amount of candy that we bring into our home (ahem, perhaps I should have left the Sour Patch Bunnies on the shelf), after seeing the large assortment of flavors, they started chatting about how much fun it would be to do a blind taste test and guess the flavors — especially once they saw the Mystery Peeps (a Walmart exclusive)! Their enthusiasm was contagious, so I caved.
Since a package of Peeps is only a dollar, this is a really budget friendly idea. We had a sleep mask at home that we used as a blindfold, but you could also tuck an inexpensive color-coordinating bandana into the basket.
They set everything for the taste test up themselves and asked me to videotape it, so I got to witness the fun firsthand. I'll warn you it's a little long, but I thought I'd share the results with you:
I'm sure you're probably wondering just what flavor are the Mystery Peeps? And the truth is, we're not sure! Everyone in the family tried them, and we all agreed they're pretty fruity — but the actual flavor varied from fruit punch to strawberry to cherry. Hopefully we won't have to wonder for long — I have it on authority that Peeps will be revealing the flavor on national TV sometime before Easter. Let me know if you see the announcement!
Whether you want to build this Peeps basket or have your own ideas, Walmart has all of the hottest Easter offerings at everyday low prices!