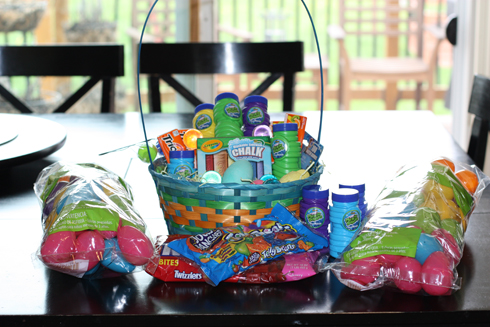 I've been procrastinating on the whole Easter basket thing. The last thing my kids need is a ton of candy and junk — and of course, in the grand scheme of things, there are much more important things to focus on for this holiday.
However, I know my kids would be super disappointed if there wasn't a little something for them all, so I headed to Walmart to see what kind of basket I could put together that contains useful items while sticking to a budget of about $5 per child.
Not only did I manage to pull it off, but I also snagged 84 plastic eggs and a couple of bags of candy for an egg hunt, something my kids have been asking to do.
A few tips for staying within a budget:
I only purchased one large basket for all five kids, a steal at just $2! They won't miss having individual baskets at all, plus both the basket and eggs can be reused year after year.
Pay attention to quantities and pricing. I had first picked up five 12-count bags of plastic eggs priced at $0.97 each before I spied the 42-count bags priced at only $1.97. I ended up with 24 additional eggs for $0.91 less!
Think outside of the box when shopping. I found the chalk, bubbles, and balloons in the toy department much cheaper than in the Easter section at the front of the store. The hi-bounce balls came from the party favors aisle, just $2 for a package of eight! And Twizzlers aren't typical Easter candy fare, but I snagged them in the grocery section candy aisle.
It's a little difficult to see everything I got, but here's what I found:
8 hi-bounce balls
3 double-packs of water bombs balloons (biodegradable!)
8 Miracle Bubbles
1 Crayola Easter Egg and Chick Chalk (6 ct.)
1 Crayola Sidewalk Chalk (20 ct.)
6 packs of Trident Gum
1 Twizzlers Bites package
1 Jolly Ranchers Jelly Beans package
1 Bamboo Easter basket
1 Easter grass (biodegradable!)
84 plastic eggs
My total for everything came in at just $27.23, and I know the kids will have many hours of fun playing outside with the various items I chose! I've seen many chocolate and candy-laden baskets selling for upwards of $20 each lately, so I'm thrilled with going the DIY route.
Disclosure: I am a participant in the Walmart Moms program. Walmart has provided me with compensation for the time and effort spent creating this post. However, my participation in this program is voluntary and my opinions are my own — always have been, always will be.