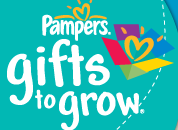 Need a few extra points in your Pampers Gifts to Grow account?
I've got a new code for you today worth 3 points!


Click here for the most current Pampers Gifts to Grow codes!
And if you've never entered the other codes, you can possibly get an additional 18 points for a total of 21 FREE points, a little more than halfway to a Shutterfly 11×14 Collage Poster!
New Code:
Previous Codes:
THRIFTYMOMMYGTG (1 pt.)
WELCOME2GTG0809 (1 pt.)
OHAMANDAAWGTG08 (1 pt.)
DONTFORGETGTG08 (1 pt.)
WELCOMEBONUS089 (1 pt.)
HAPPYHOLIDAY089 (3 pts.)
WEAPPRECIATEU08 (10 pts.)