Mandi of OrganizingYourWay.net shares her tips today.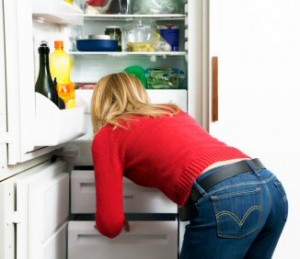 For many people, the idea of getting organized evokes images of fancy organizing systems and spending lots of time and money for a system that probably won't last anyway.
The truth, though, is that getting organized doesn't have to cost a lot of money. There are ways to do it very inexpensively or even free. And even more importantly, getting organized can actually save you money in the long run.
For example, an important part of being able to save money on your grocery bill is knowing what you have in your pantry and freezer so that you're best able to take advantage of specials and coupons to stock up on necessities as well as your family's favorites.
There are several ways to do this. One way is to keep a written inventory for both your pantry and freezer. There are great downloadable forms at Organized Home if this is the way you want to go.
Another option is to simply organize your pantry and freezer in a way that makes it easy for you to quickly see what you have so that you can look through them while making your meal plan and grocery list each week.
If you have money to invest in your pantry organization, there are great accessories available, such as this 3-tier cabinet organizer or this adjustable door rack .
Even if you are not in a position to purchase any items to help with your pantry organization, I would still encourage you to take the time to get organized. Here are a few tips to get you started:
::Divide your pantry space into types or categories of food. You might separate cans, breakfast foods, baking ingredients and snacks. Or you might keep all of your prepared foods on one shelf where they're easily accessible and put jars/cans/mixes on another.
::Arrange food so that it's easy to see. Turn cans so that you can see their labels. If space requires you to keep things in front of each other, put the larger items in the back so they're easier to see.
::Keep the ingredients you use more frequently at eye level and easily accessible.
::Rotate and reorganize your pantry every 4-6 weeks. When stockpiling food, it's easy to waste food if you're not organized. Rotating and reorganizing your stock ensures that you use any items that are close to expiring or that you may have forgotten about.
Although getting organized may take an investment of time and/or money, in the long run it will save you money. You won't end up buying duplicates of items you already have or having to make last-minute shopping trips because you ran out of an important ingredient. You'll also have a better idea of what you have and when it expires so that you don't end up throwing food away because it's gone bad.
This week at OrganizingYourWay.net , we'll be looking at pantry organization and the different methods for getting organized to make meal planning, grocery shopping and saving easier. Stop by or subscribe now to be sure you don't miss anything!
Mandi Ehman is a wife and momma to three little girls (4, 2.5 and 1 years old). OrganizingYourWay.net was born from her belief that getting organized only lasts if you do it your way – to fit your needs, your preferences and your lifestyle.
Are there any other items or methods that you use to keep your freezer and pantry organized? Do you find that you save more money when you're organized?