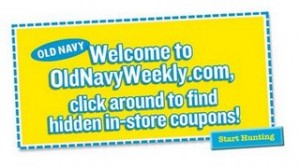 Are you all refreshing and wondering when the OldNavyWeekly.com site is going to update? Earlier this week they said it would happen sometime on Sunday, so it could be any time from now on!
I know you're all anxious to try to get one of those fantastic $75 off $100 coupons that will be back this week!!! (no, that's not a typo)
I'll be in and out all day because we're hosting a barbecue for my 3 year old's birthday, so have at it. Feel free to chat amongst yourselves, and as always, you all do a fabulous job of helping each other find the big ones. If it hasn't refreshed by tomorrow evening, I'll be online hoping to get in on the action too!