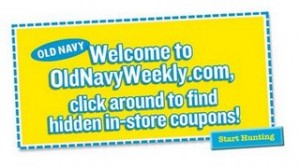 Are you ready to hunt down some Old Navy Weekly coupons? Once again Nicole from the M80 Newsroom sent me a message about those elusive coupons:
Alright, it's time to let your friends in on the fabulous secret that is OldNavyWeekly.com. So this week, in addition to hiding that beloved $75 off $100 coupon again, we're adding the ability to share a coupon with a friend through Facebook. You can keep one for yourself and share one with a pal each week…so choose wisely and give generously!
I'm particularly excited about the ability to share a coupon with a friend, as I'm sure many of you are as well!
For newbies: OldNavyWeekly.com is an Old Navy microsite that's updated once weekly with new coupons, but the trick is you have to click around the site to find where the coupons are hidden. Oh, and you have to be quick because others are doing the same from the moment the site refreshes, so it's a race to get the best coupons first as there's a limited number! Here's an example of where the coupons were hidden last week.
Now it's not clear from Nicole's message when the update will be taking place this week. The site says "Sunday Refresh Continues With A Friendly Twist", so it sounds like it will be this Sunday again, but they could always surprise us!
I had so much fun chatting with you all in the comments last Sunday! Feel free to chat away here, and if it hasn't happened by Sunday, I'll post a reminder. Hope to see you here!