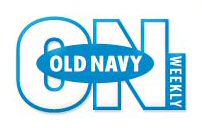 Boy, Old Navy Weekly sure kept us hanging on all day yesterday. I'm so excited that I finally snagged the big $75 off $100 coupon – can't wait to take my 4-year-old daughter shopping for some new summer clothes!
It's not clear whether they'll be refreshing the coupons throughout the week as they have in the past weeks, but just in case, here's the full rundown of hiding places for this week.
Where are the coupons?
10% off any Purchase – Put the black & white strapless dress on blond mannequin.
15% off any Purchase – Click on the American flag the mannequin in the flag shirt is holding.
30% off $50 Purchase – Drag the scarf to the blond mannequin's neck.
$20 off $100 Purchase – Rearrange the flag shirts to be in red, white, and blue order.
$50 off $100 Purchase – Click on the blue polo under "More Fabulous Finds." (not everyone could see this for some reason.)
$75 off $100 Purchase – Click the palm trees behind the mannequin wearing the red American flag shirt. Then click on the head of the parrot that flies around. (he's a tough booger to catch!)
I had a great time chatting with everyone last night! I'll let you know when I hear about the next update so we can do it again.