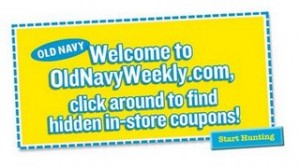 Yes, it's time for the watching and waiting for new coupons to begin. My guess is that we'll see a refresh on Thursday evening – hopefully they will do it much earlier than last week!
Here's what Nicole from the M80 Newsroom has to say this week:
Get your hunting fingers ready because this week at OldNavyWeekly.com we're hiding $65 off $100 coupons and you can still keep one for yourself and gift one to a friend…if you find them quick enough, that is. Happy hunting!
In case you're new to the Old Navy Weekly game, each week they refresh their site with new, high-value coupons hidden in different places throughout the page. They never share where they're going to be hidden or what time they will add them to the site, so you just have to keep refreshing the site. For some examples of they hide them, check out last week's wrap-up post and practice on the current page.
The good news is that there are some fantastic and dedicated Deal Seeking Mom readers who'll hang out with you in the comments section and help you figure out where the coupons are hidden when the site does refresh. They're really great at answering questions too, so ask away – thanks, everyone!