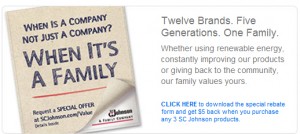 Many of you have been asking what happened to the $5 SC Johnson Mail-In Rebate since we could no longer access it from the old link. It appears that they've just moved it, so you can now go here for the $5 SC Johnson Rebate.
Note that this is a PDF file, so you'll need Adobe Acrobat Reader to open it.
Purchases can be made through 6/30/10, and forms must be postmarked by 7/15/10. Limit of three rebates per household!
Thanks, Tammy!