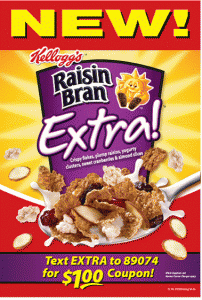 Text the word EXTRA to 89074, reply with your email address, and you'll receive a link in your inbox to print a $1/1 Kellogg's Raisin Bran Extra coupon!
All in all I sent two text messages and received two text messages to get the coupons, so please keep that in mind if you don't have an unlimited text messaging plan.


While this isn't a ShopText offer, you can read more about texting for freebies and coupons in a recent post I did on them.