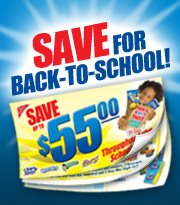 Hurry to sign up for your Nabisco Back To School Savings! You'll get (2) $20 rebates and $15 in coupons on Nabisco, Planters, Capri Sun, Ritz Bits, and Easy Cheese.
While supplies last, so act fast!
Thanks, Moms By Heart!
If you want to be the first to know about great promotions like these, you'll definitely want to register for both the Kraft Foods Newsletter and the Kraft First Taste program.